Bhutan at a Glance : Snow
It snows in Bhutan; the country is on almost the same latitude as southern Japan, Okinawa prefecture. It snows from around December to March, depending on the climate from year to year. When it snows on a mountain peak (a peak is called la in the Bhutanese language), some roads are closed to avoid car accidents. And when the capital city Thimphu has its first flurry, the government announces the first snow-holiday on that day. Following the natural order is perhaps the Bhutanese way.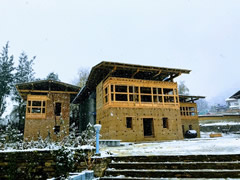 Snowing in Thimphu
Reinforcing Existing Houses
The project has been reinforcing full-scale houses which were without reinforcement in the December experiment. With various ways of reinforcing materials in a house already standing, as opposed to one being built, the project will verify its effectiveness. Affordable and locally available materials are chosen such as wire meshes of different thicknesses, and wooden braces available in the market. After the reinforcement is completed, the project will implement the experiment, which involves applying stressing using hydraulic jacks.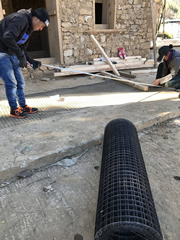 A roll of wire mesh to reinforce a stone masonry wall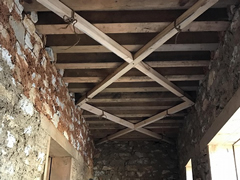 Wooden braces on the ceiling