Shaking Table in Operation
The Department of Culture (DOC) launched a shaking table to test the response of structures to earthquakes and to verify the effect of seismic strengthening. The shaking table, which was imported from Japan, is compact, with dimensions of nine square metres and shakes only in a horizontal direction. It can not only show the collapse pattern of a miniature model of a traditional house but also examines intervention technology developed for earthquake-resilient houses. Moreover, the shaking table allows people to feel earthquakes and raises their awareness of how to prevent damage caused by them. On 22 March 2019, the DOC held an opening ceremony for the shaking table to which they invited the chief representative of JICA Bhutan Office. To pray for safety, the director general of the DOC and the chief of the JICA untied a "Tashi Khadar" (a celebrational scarf) tied onto the shaking table's console. Local TV and newspapers showed coverage of the shaking table as follows.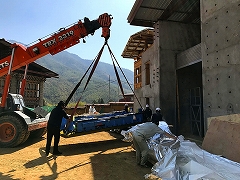 The shaking table being lifted by a crane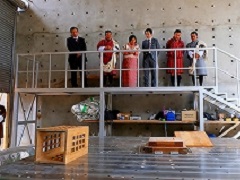 Demonstration of a shaking test with a miniature wooden model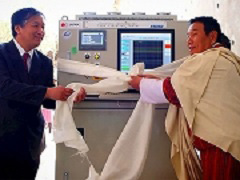 Mr Watanabe, JICA and Mr Karma, the DOC, releasing the Tashi Khadar
The Examination Facility Fully Opened
The examination facility in the premises of the DOC has been fully opened since the shaking table was installed. This facility enables a vibration test on a small house model as well as a stress test on a full-scale house. Simulating an earthquake as realistically as possible, the tests help understand the seismic behaviour of various traditional houses and evaluate the seismic technology that has been developed for them. Since April 2019, the project has been preparing for a series of tests at the facility.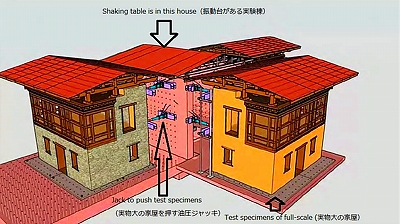 A plan of the examination facility