The Third Joint Coordinating Committee (JCC)
On 10 May 2019, the third Joint Coordinating Committee (JCC) was held in the Department of Disaster Management (DDM), Thimphu. The JCC, which is to gain consensus among project members, was chaired by the new project director, who is the director general of the DDM and the new chief representative of JICA Bhutan Office was introduced. During the JCC, representatives from four Bhutanese departments reported on the progress of activities in 2018 and the plans for 2019. From Japan, the project's chief advisor, Prof Aoki Takayoshi of Nagoya City University and four other experts outlined the risk assessment activities for earthquake disasters to be conducted in two (pilot) sites in Bhutan, which seemed new to Bhutanese members. Additionally, to image an output of the pilot sites' activities, a sample of a hazard map of Japan was presented by Dr Takahashi Noriyuki of Tohoku University and Dr Inoue Hiroshi of the National Research Institute for Earth Science and Disaster Resilience.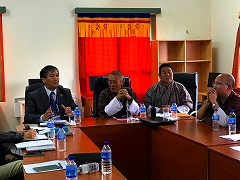 The JICA chief representative (left) and the director general of the DDM (centre)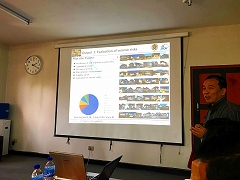 Presentation on a pilot site by Prof Aoki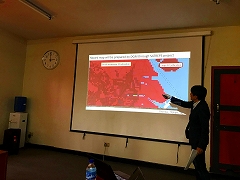 Presentation of a sample hazard map of Japan by Dr Takahashi
Maintenance Team in the East
From 10 to 15 May 2019, a maintenance team drawn from the Department of Geology and Mines (DGM) and Kyoto University travelled toward Eastern Bhutan for a regular check on the high-sensitivity seismometer system. The team maintained the system in Bumthang and Trashigang. To assess national seismic hazards, there are seventeen earthquake source monitoring stations with the system, of which nine are maintained by the project, of which six are fixed stations and send real-time online data to the DGM. The other three are mobile, situated along the higher northern border, and remain offline. Since the offline stations are equipped with a cellular network modem, the data reach the DGM almost in real time when the network communication is functioning properly.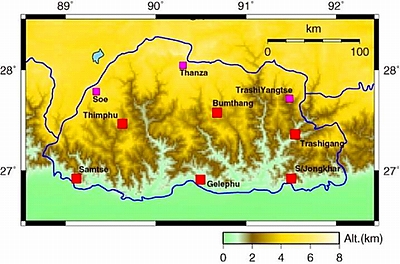 Earthquake Source Monitoring Network- online stations are in red, offline are in pink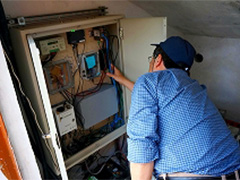 The checking of Trashigang station by Dr Ohmi Shiro, Kyoto University