Oral Presentation at Construction Seminar
On 29 August 2019, an engineer with the Department of Culture (DOC) delivered an oral presentation to more than 300 construction business people gathered from all over the country. The presentation was not only about the outline of the project, but also the role of the examination facility of the DOC in developing seismic technology for traditional buildings. His presentation had an impact on the audience, it received many questions and was highly acclaimed by the organizer, the Construction Development Corporation Limited (CDCL). The presentation was summarized in a paper, which was co-authored with Japanese researchers and published in the seminar proceedings as follows:
Title: Construction Management of Test Facility in Bhutan
Authors: PEMA (1), Kunzang TENZIN, Kshitij C. SHRESTHA (2), Takayoshi AOKI (2)
Author Affiliation: (1) The Department of Culture, Ministry of Home and Cultural Affairs, (2) Nagoya City University
The Seminar Proceedings: Construction Seminar 2019 - "Emerging Trends in the Construction Industry", Thimphu, CDCL, pp. 201-207.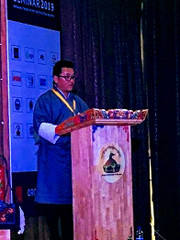 Mr Pema, DOC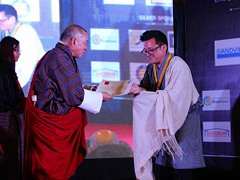 Certificated by the organizer (Photo credit: CDCL)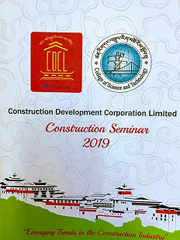 The seminar proceedings
Migrating the Earthquake Monitoring Network
The Department of Geology and Mines (DGM), Ministry of Economic Affairs (MOEA) has been migrating the earthquake monitoring data network from a public network into the Governmental Wide Area Network (GWAN). The merits of the migration are that it will improve the communication quality, make it cost-efficient and so on. From 27 August 2019, the DGM obtained advice on a trial network from a Japanese expert, who succeeded in migrating two earthquake monitoring stations into the GWAN. A meeting for the stable operation and future improvements of the GWAN was then held with technical staff from the Ministry of Information and Communication Technology (MICT), which administers the GWAN, the ICT division of the MOEA and the DGM.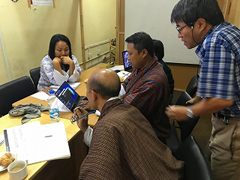 Dr Ohmi Shiro, Kyoto University (right) advising the DGM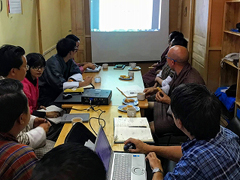 A meeting with technical staff