Active Fault Field Survey
From 20 to 27 September 2019, a field survey for mapping active faults in south-western Bhutan was conducted by a team of six members from the Department of Geology and Mines (DGM), the National Research Institute for Earth Science and Disaster Resilience (NIED) and Hiroshima University. When two blocks of the earth slip, an earthquake occurs and the surface where they slip is called a fault. A fault that is likely to have another earthquake in the future is called an active fault. The team visited several sites to confirm a fault and the exact location of active faults, following their interpretation of aerial photos taken by the National Land Commission (NLC) to develop a distribution map of estimated faults in the area. In Samtse District at the foot of Himalayas, the team not only dug a trench across an active fault to find other faults, but also examined the outcrops where active faults appear to check for the presence of a slipping feature of an active fault. The project aims to develop an earthquake hazard map integrated with active fault maps, seismicity maps showing the earthquakes occurring in Bhutan and ground motion amplification maps showing shaking levels at a site.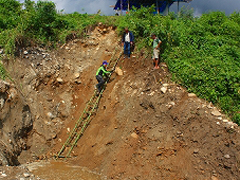 Searching a fault along a trench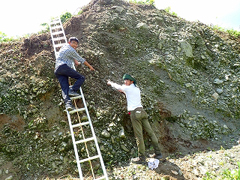 Pointing out a fault along an outcrop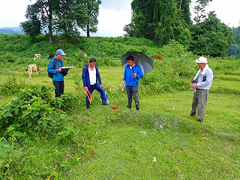 Marking a GPS surveying point
Photos courtesy of Dr Kumahara Yasuhiro, Hiroshima University
Oral Presentation at the Annual Architectural Convention in Japan
On 3 September 2019, nine of the project members delivered oral presentations at the Annual Convention 2019 organized by the Architectural Institute of Japan. Their common theme was "Study on Earthquake Resistance Technology of Composite Masonry Buildings in Bhutan" and they elaborated the scientific findings from the project's tests. Among them, a Bhutanese doctoral student at Nagoya City University (NCU), who studies abroad from the Department of Culture (DOC), reported on " The full-scale tests on composite masonry buildings: Unreinforced and mesh-wrapped rammed earth construction".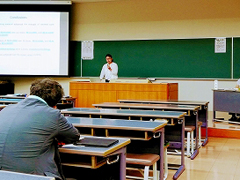 Presentation by Ms Phuntsho, a doctoral student of NCU
Photo courtesy of Mr Aoki Hidenori (NCU)