Micro-Topographic Survey with a Drone
From 1 October 2019, the Department of Geology and Mines (DGM) and the National Research Institute for Earth Science and Disaster Resilience (NIED) performed a detailed topographic (micro-topographic) survey using an unmanned aerial vehicle, or a drone. The drone captured the surfaces in detail, covering the whole area of Essuna village, Paro District, which is one of the project's pilot sites for earthquake risk assessment.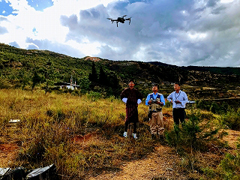 Flying drone, with Mr Karma (DGM), Dr Inoue (NIED) and Dr Hao (NIED)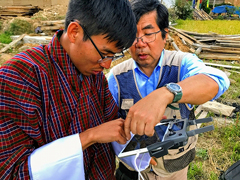 Mr Karma learning from Dr Inoue how to set up a drone flight program
Static Test on Mock Houses
From 11 October 2019, a series of static tests which used hydraulic jacks to gradually exert a horizontal stress on a mock house were conducted in the premises of the Department of Culture (DOC). Some of the mock houses had already been reinforced from the beginning of their construction to improve their seismic capacity. An engineering team drawn from the DOC, the Department of Engineering Services (DES), Nagoya City University, Kagawa University and Tohoku University examined the effectiveness of seismic technology on both rammed earth and stone masonry houses, gathering data such as the maximum load against the stress.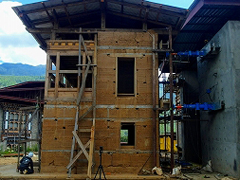 Putting various sensors on a rammed earth mock house newly built with reinforcement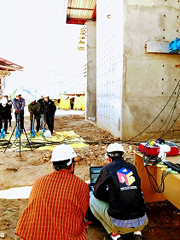 Pushing pumps to put stress on a mock house and collecting load and displacement data onto a computer