VR Demonstration at International Conference of Asia Digital Art and Design
From 26th to 28th November 2019, a Masters student at Nagoya City University (NCU), Ms Ohashi Sayuri, demonstrated a virtual reality (VR) material for learning disaster mitigation measures at the International Conference of Asia Digital Art and Design held in Malaysia.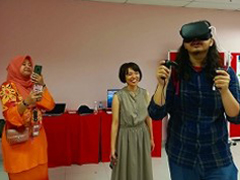 Ms Ohashi demonstrating the VR material (Photo courtesy of Dr Nakagawa Ryu, NCU)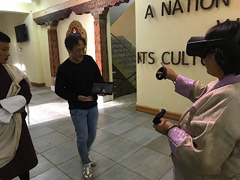 Dr Nakagawa reviewing the VR with Bhutanese counterparts
Title: SVR-1 (Beta Version): An Educational VR Experience for Earthquake Disaster Mitigation in Bhutan
Authors: Sayuri Ohashi, Akari Kamiya, Soji Mochizuki, Ken Sonobe, Ryu Nakagawa, Takayoshi Aoki
Conference name: International Conference of Asia Digital Art and Design (ADADA2019), Kuala Lumpur, Malaysia,
26 th - 28 th November 2019
Using the VR material, it is possible to experience earthquakes virtually happening in a Bhutanese traditional house and to learn how to prevent furniture tipping by means of anchoring measures. Dr Nakagawa Ryu, who is the supervisor of Ms Ohashi, has been developing the VR and visited Bhutan in early November to review the prototype of the VR with his Bhutanese counterparts.
Shaking Table Tests
On 29th October 2019, at the experimental facility of the Department of Culture (DOC), the project conducted a series of shaking table tests. On the shaking table, a one-sixth scale of rammed earth specimens were vibrated, using different types of earthquake vibrations. The tests provided the data required to compare the specimen with retrofitting measures and the one without any retrofitting and the associated patterns of collapse. The Chief Advisor to the project, Prof. Aoki Takayoshi of the NCU, and an expert of Structural Engineering, Dr Kshitij C. Shreshta, also of the NCU, instructed the DOC's engineers how to prepare and implement the shaking table tests, and how to interpret the test data.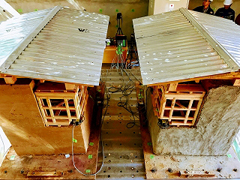 Rammed earth specimen without retrofitting (left); with retrofitting measures such as concrete plaster on the wall (right).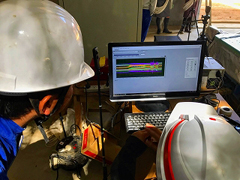 Prof Aoki showing test results to a Bhutanese engineer from the DOC.
Joint Survey at a Pilot Site for Earthquake Risk Assessment
Between 23rd and 26th October 2019, a combined survey team from the Department of Engineering Services (DES),the Department of Geology and Mines (DGM),the DOC and the NCU visited Bumthang in central East Bhutan to find a pilot site for an earthquake risk assessment, evaluating the vulnerabilities of traditional building structures, as well as topographic or geographic features. The first building team, DES and DOC, checked stone masonry houses one by one, numbering and categorizing them. The topographic team of the DGM gathered topographic features from several villages in Bumthang. Following the survey, the team chose Ura as the pilot site for the risk assessment including stone masonry houses.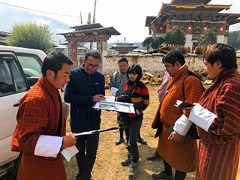 The team arrived at Ura village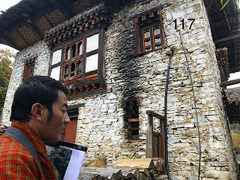 A DOC engineer observing a stone masonry house