Poster Presentation at the International Symposium on Active Faulting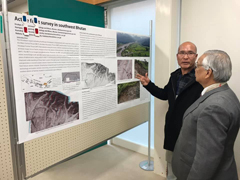 Dr Dowchu presenting the poster
From 13th to 17th January 2020, Dr Dowchu Drukpa of the Department of Geology and Mines (DGM) attended the International Symposium on Active Faulting held in Awaji city, Japan. Exactly 25 years ago, a massive earthquake hit Hyogo Prefecture, affecting Awaji city on 17th January 1995, known as the Great Hanshin Earthquake, which began to spread along an active fault, the Nojima fault cutting across Awaji Island. In commemoration
of the disaster, the symposium was held at Nojima Fault Preservation Museum to share new developments in active fault studies with experts around the world. The only Bhutanese participant at the symposium, Dr Dowchu, delivered a presentation on the latest survey on active fault in Bhutan.
Poster title: Active fault survey in Southwest Bhutan
Authors: Dowchu Drukpa (1), Karma Namgay (1), Yasuhiro Kumahara (2),
and Takashi Nakata (2)
Author affiliation:
(1) The Department of Geology and Mines, Ministry of Economic Affairs, Bhutan
(2) Hiroshima University, Japan
Symposium name:International Symposium on Active Faulting, Hokudan 2020, Awaji, Japan,13th -17 th January 2020
New Publication
On 14th January 2020, a new article written by the project team was published online in the Journal of Building Engineering. The paper elaborates how the project has been developing the strengthening interventions for rammed earth structures in Bhutan since 2016.
Article: Strengthening of rammed earth structures with simple interventions
Authors:
Kshitij C. Shrestha (1), Takayoshi Aoki (1), Mitsuhiro Miyamoto (2), Phuntsho Wangmo (3), Pema (3),
Jingyao Zhang (4), Noriyuki Takahashi (5)
Author affiliation:
(1) Department of Architecture and Urban Design, Nagoya City University, Japan
(2) Faculty of Engineering and Design, Kagawa University, Japan
(3) Department of Culture, Ministry of Home and Cultural Affairs, Bhutan
(4) Department of Architecture and Architectural Engineering, Kyoto University, Japan
(5) Department of Architecture and Building Science, Tohoku University, Japan
Journal: Journal of Building Engineering, Vol 29, May 2020, 14 th Jan 2020 published online