BBS Royal Tutorial Project Highlights the Project
From February 6th to 7th, 2020, the Bhutan National Broadcasting (BBS) educational program for high school students, the Royal Tutorial Project, featured the activities of this project and broadcast the state of the experiment nationwide. In December 2019, the program visited the project experiment facility of the Department of Culture in the Ministry of Home and Cultural Affair to observe the shaking table test to verify the earthquake resistance technology of traditional buildings and the static loading test of a real scale house. The navigator of the program, which was also a tutor of His Majesty the Fourth King, explained the terms of structural experiments in an easy-to-understand manner while interviewing project members and disseminated the significance and importance of this project to the people of Bhutan.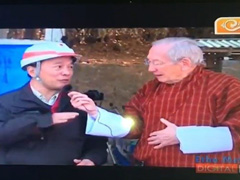 Prof Aoki Takayoshi (Nagoya City University) interviewed by the programme director, Mr Michael Rutland.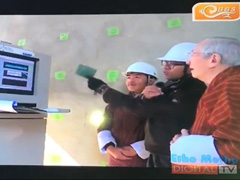 Dr Shrestha (Nagoya City University) and Mr Kunzang (DOC engineer) explaining how the shaking table works.