Report from Counterpart on The 25th Global Seismological Observation Training Course
January-March 2020, JICA Tsukuba
One of the counterparts, Ms. Nityam Nepal, Department of Geology and Mines, Ministry of Economic Affairs, participated in the "The 25th Global Seismological Observation Training Course" by JICA in Tsukuba. The training was conducted in collaboration with the International Institute for Seismology and Earthquake Engineering (IISEE), Building Research Institute (BRI). It provided knowledge about the role of seismology under the CTBTO * system and the international surveillance system. She learned global seismic observation techniques for monitoring nuclear tests and earthquakes, and also data analysis technology for identifying nuclear test and natural earthquakes. Ms. Nityam plans to apply for JICA's long-term training "Seismology / Seismic Engineering / Tsunami Disaster Prevention" with the aim of further improving her skills and knowledge.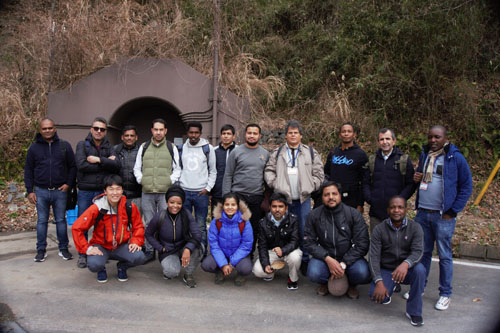 Microtremor Observation in Mt. Tsukuba
*CTBTO=The Preparatory Commission for the Comprehensive Nuclear-Test-Ban Treaty Organization
Reference: IISEE News Letter No. 179
Interim Report JICA long-term training - Seismology/Seismic Engineering/Tsunami Disaster Prevention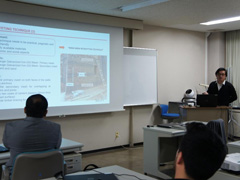 Presentation by CP in training
From September 2019, for one year, counterpart Mr. Pema from Departement of Culture, the Ministry of Home and Cultural Affairs has participated in the JICA long-term training "Seismology / Seismic Engineering / Tsunami Disaster Prevention". A master's degree in disaster management is awarded by the National Graduate Institute for Policy Studies. The program that has mainly been carried out at the International Institute of Seismology and Earthquake Engineering, Building Research Institute will be carryied out at the Nagoya City University (Implimenting organization) from mid-May, which will be more in line with indivudial research topic. It is hoped that the knowledge learned from this training will contribute to the guidelines and policies for seismic diagnosis methods and seismic retrofit methods suitable for Bhutan. He has submitted a paper to the 17th World Earthquake Engineering Conference held in September this year, and it is expected that project activities in Bhutan will be presented.
Interim Report PhD Course of Nagoya City Univ.
Since 2017, one of the counterparts, Ms. Phuntsho Wangmo, Department of Cultur, Ministry of Home and Cultural Affairs, is taking a doctoral course at the Nagoya City University Graduate School of Arts and Engineering with scolarship program of a Ministry of Education, Culture, Sports, Science and Technology (SATREPS frame). Her Papers have been submitted to the World Conference on Earthquake Engineering (17th) and the Architectural Institute of Japan Conference held in September of this year, and also she plan to submit her theses to the journal in the near future