From 31 January to 3 February 2017 and from 6 to 10 February 2017, Farmers' Workshop was hold at 9 villages on two JICA Grant Aid Project sites. One was the project for rehabilitation and improvement of Buluto Irrigation Scheme and the other was the project for rehabilitation and improvement of Maliana I Irrigation System. This project utilizes those irrigation facilities effectively and aims to increase farmers' household income through strengthening domestic rice production by utilizing irrigation water.
On the 1st week, the project team visited to four villages which have been utilizing Buluto Irrigation water. The names of villages are Vemasse village and Waigae village in the sub-district of Vemasse of Baucau municipality and then Hatulara village and Lifau village in the sub-district of Laleia of Manatuto municipality. On the 2nd week, the project team conducted Farmers' workshops at Holsa village, Odomau village, Lahomea village, Raifun village and Ritabou village in the sub-district of Maliana of Bobonaro municipality.
Totally 371 farmers could participate in the Farmers' workshop because of well-done preliminary explanatory meeting to local authorities such as district administrators, sub-districts administrators, new chief of village and village council members. Through the workshops, we could have very constructive dialogue with attended farmers in amicable atmosphere.
At this season, Timor-Leste is in rainy season now. Paddy farmers have been planting rice seedling very hard even when outside is downpour. Through this project, our team members work together to ensure that each one of rice seedlings will lead to improvement of farm household income. The project would like to thank you for your continued support.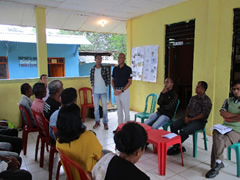 Chief Advisor, Mr. Noriaki Niwa explained about Project Strategy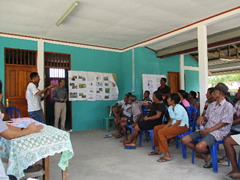 Rice Cultivation Expert, Mr. Odashima explained about Rice Cultivation Techniques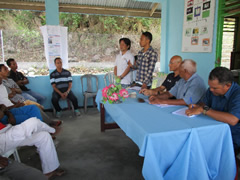 Rice Distribution and Sales Expert, Mr. Hironaka explained about Rice Marketing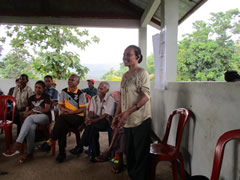 Q&A