The Project implemented a training for total 11 new national project staff (NS) from February 13 to 21, 2017.
Most of them were competitive enough in that they applied for each of their positions announced in major local newspapers and internet in last December and successfully passed selection of the short-listed applicants out of hundreds of applicants as well as interviews that were strictly done by the Japanese project experts. In addition, they already have enough work experiences in international development organizations and NGOs.
Therefore, our expectation of them was so big that not only the project experts but also the project counterparts (CPs) in the Ministry of Agriculture and Fisheries (MAF) and the Ministry of Commerce, Industry and Environment (MCIE) who are members of the Joint Coordinating Committee in the Project, participated in the training as a trainer to teach them about their own organizations and the project activities. On the other hand, training sessions on group discussion about the project activities and the daily work were also organized so that they can frankly exchange their opinions about those themes and enhance their solidarity. Furthermore, the JICA officials and a JICA expert also became trainers for the training to teach them about organization and development projects of JICA and their related activities to the project and all the NS were then interestingly listening to their lectures.
In the last two days of the training, the NS actually visited the two project sites in Buluto and Maliana, met the local CPs and saw the irrigation facilities there, and the training was successfully completed.
One NS commented about the training with her full smile, "I am very happy to participate in the training because I could learn about a lot of new things about the project and visit the project sites that I have never visited before."
Soon after the training, the Project will implement many activities, but we hope that all the NS will utilize what they learned in the training in their daily work and cooperate each other to work for the Project as a team.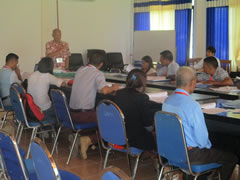 Mr. Noriaki Niwa, Chief Advisor explaining about the Project.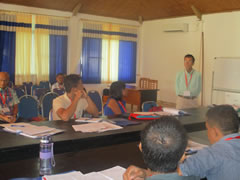 Mr. Nariyoshi Odashima, Project Expert, explaining about the Rice Cultivation Techniques.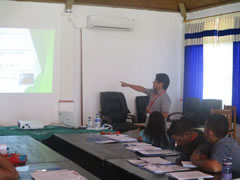 Mr. Shinji Hironaka, Project Expert, explaining about rice distribution and ales.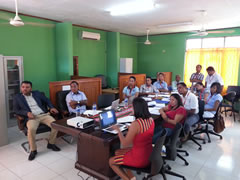 Training at MCIE.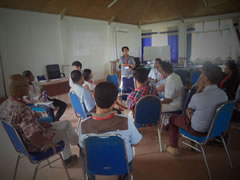 Group discussion.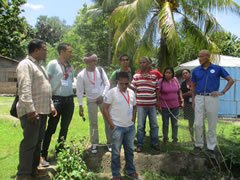 Visit at the Project Sites.