On April 10, 2017, Second Joint Coordinating Committee (JCC) was held at Ministry of Agriculture and Fisheries (MAF). This time, not only Vice Minister of the MAF and the JCC members of the MAF and the Ministry of Commerce, Industry and Environment (MCIE), but also the Presidents of Municipalities and the Sub-district Administrators being in charge of the two Project Sites, Representative of the Japan Embassy, Mr. Kazuya Suzuki, Deputy Director General and Group Director for Agricultural and Rural Development Group 1, JICA Headquarters, Mr. Akira Kamidohzono, Senior Advisor, Rural Development Department, JICA Headquarters and Mr. Hikoyuki Ukai, Chief Representative, JICA Timor-Leste Office, participated in the second JCC.
At the opening of the second JCC, the Vice Minister mentioned his appreciation for the JICA's support in agriculture and irrigation, while Mr. Ukai and Mr. Suzuki explained about importance of collaboration among all the stakeholders including farmers.
After that, the Presidents of Municipalities explained about progress of the project activities in each of their municipalities with their thanks for the JICA's former projects and this Project in their support to their areas.
Thereafter, report on the consumers' perceived value & preference survey of domestic rice was presented by the representative of Agro-Commerce of MAF, while Mr. Noriaki Niwa, Chief Advisor of the Project had a presentation about the PDM Version 1 of the Project which was made based on results of the baseline survey, and the participants agreed to his proposal.
In the open discussion, there were several comments and opinions by the participants about importance of the roles of the private sector in agriculture, necessity of change of farmers from their dependence on the external agricultural support and purchase of rice by the MCIE, and the second JCC was successfully ended.
On the other hand, after the second JCC, Mr. Suzuki and Mr. Kamidohzono had their presentations about their work for the Counterparts (CPs) of the MAF and the project national staff. It was impressive that all of them were seriously as well as interestingly listening to their lectures.
From now on, based on results of the second JCC, the Project will continuously keep having close dialogues with the relevant stakeholders including farmers, their groups, the CPs of the central ministries and the municipalities and the private sector, implement the project activities in cooperation with them and clarify their roles to establish the value chain of domestic rice in this country.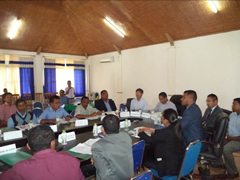 Second JCC.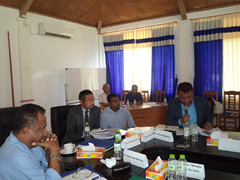 Second JCC.
Second JCC.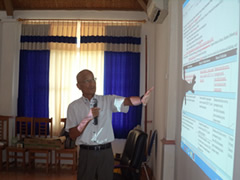 Second JCC.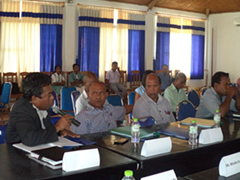 Second JCC.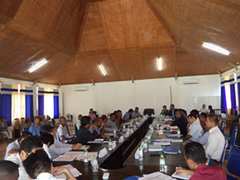 Second JCC.