A training on operation and maintenance (O&M) of irrigation facilities was recently implemented in Buluto for irrigation officers and gate-keepers in Buluto by Mr. Takamasa Ando, Short-term expert on organization of Water User's Association (WUA) of the Project.
Main objectives of the training were to confirm how much they are understanding basic knowledge and skills on O&M of irrigation facilities that they learned in the former training by the Project for Rehabilitation and Improvement of Buluto Irrigation Scheme of JICA and teach them again essential ones such as how to use staff gauge and regulate water level.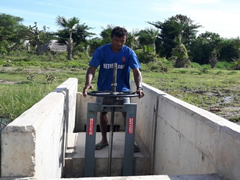 Gate-keeper applying some techniques taught by Mr. Ando.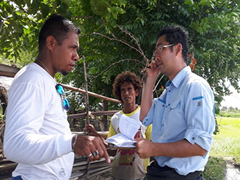 Mr. Ando and a national project officer interviewing a farmer.
As a result of the training, they could not only practically review and learn about basic skills on O&M of the irrigation facilities, but also raise their awareness about importance of collective work by farmers by visiting the canal which had been actually repaired by their groups when there was a flood.
One of the trainees said that he thanks Mr. Ando for sharing his knowledge on how to take proper O&M on the irrigation facilities and that he will apply some of the techniques taught by him to help him do better job in the future.
The Project will continuously support them in enhancing their capabilities on O&M of the irrigation facilities so that they can benefit from the facilities in sustainable manners.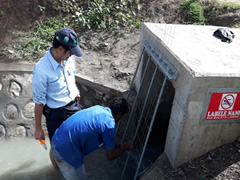 Mr. Ando and a gate-keeper setting up an iron net on the entrance of culvert.