Most of the farmers that were interviewed in the fields answered that they have been currently enjoying benefits from the Buluto irrigation for their agricultural activities,
One farmer from Hatu-Ralan said that he is completely benefited from the Buluto irrigation. He cultivated one hectare for the first cropping and will continue to do the same for the second cropping. He also used a small plot of land next to an irrigation canal to grow vegetables for self-consumption.
He is also aware of the benefit of applying line planting for weed controlling and increasing production. He will sell his rice if there is a market to buy his produce.
Another farmer from Tasi village, Vemasse said that he thanks people of Japan for building the Buluto irrigation. He will use the irrigation water to increase the yield and produce more. As the Buluto irrigation can supply water during the dry season, he is prepared to cultivate his rice field twice a year, while applying line planting taught by the MAF to increase his production. He does not need to argue over water anymore with other farmer as he did in the past. Now he has plenty of water in his rice field than he needs.
At the downstream, another farmer also got benefits from the Buluto irrigation. In the past he had to do manual work in the river to distribute water to his rice field, but now thanks to the Buluto irrigation, he does not need to do the hard work anymore.
, On the other hand, it is also true that there has been a big challenge in Buluto. According to a local source, more than a half of the total rice fields were not cultivated during the first cropping of this year because the owners were not around. It turned out that the rice field owners in both Vemasse and Laleia have been renting out their fields to tenants for their use, while the harvests are equally shared between them after the on-season.
Extension workers have been currently making efforts to convince the rice field owners to cultivate their lands for the second cropping as the Buluto irrigation has now been able to secure water from Laleia river all year around. From now on, the Project will support local farmers in increasing not only their rice production but also their incomes and life standards at the end through the project activities in full cooperation with the counterparts, aiming at making Buluto an attractive place where the rice field owners and their families can make their livings without any difficulty.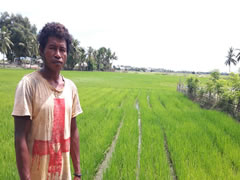 Farmers interviewed by the Project and rice field in Buluto.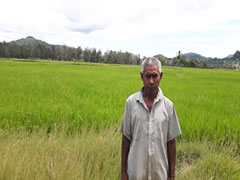 Farmers interviewed by the Project and rice field in Buluto.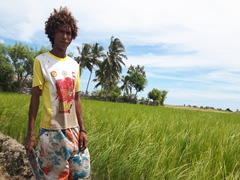 Farmers interviewed by the Project and rice field in Buluto.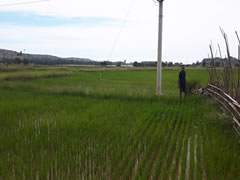 Farmers interviewed by the Project and rice field in Buluto.