The Project has finally completed the first dialogues with farmers in Maliana on April 27, 2017.
The primary objective of having dialogue with farmers in the Project Sites is to explain the outline of the project to them and understand their on-going issues in production and marketing of domestic rice.
From March 13 to April 27, 2017, our project officers managed to interview with around 346 farmers' households during their first visit in Maliana. According to them, it was not easy sometimes to find out farmers because they live scattered all over the villages or they have to go to their rice fields. It was also true that the bad weather sometimes prevented them from doing their field activities smoothly.
Our next visit to Maliana is planned in June, 2017 when our project officer will continue to hold dialogues with the farmers there who were not reached out during the first visit. Our first visit of farmers' dialogue in Maliana Irrigation I was now concluded, and from May 2, the Project Team will move to Buluto to start the first dialogues with the farmers there.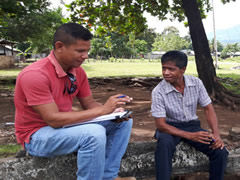 National project Officer holding dialogue with a farmer from Holsa Village.