On 12th May 2017, Centre Agriculture of Kuda- Ulun Bobonaro (CAAKUB) Farmers' Association from Bobonaro conducted its 1st Test Sales of its domestic rice at the Ministry of Agriculture and Fisheries (MAF) in Dili. The opening ceremony of the event was attended by Mr. Marcos da Cruz, Vice Minister of MAF, Mr. Cesar Jose da Cruz, Secretary General of MAF, Mr. Nivio Magalhaes, Administrator of National Logistics Center of Ministry of Commerce, Industry and Environment (MCIE), Mr. Hideaki Matsumoto, Acting Chief Representative of JICA Timor-Leste, Mr. Noriaki Niwa, Chief Advisor of the Project, along with the staff of MAF.
In the opening ceremony, Mr. Diamantino dos Reis, President of CAAKUB expressed his thanks to Agro-Commerce of the MAF and JICA for their technical support to the preparation from purchasing the rice from the farmers in the rice field to organizing the Test Sales at MAF.
Mr. Shinji Hironaka, the Project Expert on Agricultural Distribution and Sales said that through the Test Sales, we can help to grow the entrepreneurship spirit of the CAAKUB as a farmers' association.
Most customers at MAF said that they were very happy to buy new fresh rice from CAAKUB and they will come back for more after experiencing its taste. They will cook the rice for main meal and some will make porridge for their children's breakfast.
Rice displayed for sales by the CAAKUB at MAF.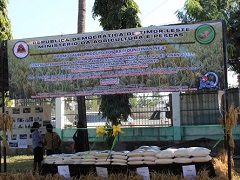 Rice displayed for sales by the CAAKUB at MAF.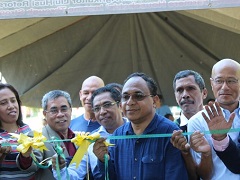 Opening ceremony.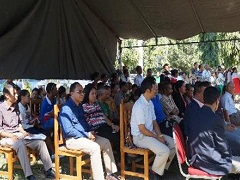 Opening ceremony.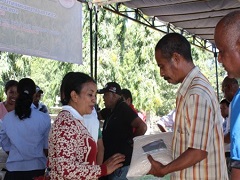 Mr. Diamantino providing information to the customer.
Customers buying the rice.