The Project has recently started to prepare for its extension activity on rice cultivation techniques in Buluto.
Through the extension activity, the Project will support target farmers in increasing their productivity by practicing two basic cultivation techniques of line planting and weed control. The two techniques were selected because they can be applied easily by all farmers without any particular skill and expensive cost.
In order to disseminate those two cultivation techniques to as many farmers as possible, the Project will provide the target farmers with an opportunity to implement comparative-cropping of random and line planting in their paddy fields at small-scale and to directly realize effectiveness of the latter technique by him/herself, while other farmers can also learn about it through their direct observation.
Mr. Nariyoshi Odashima, Project Expert on Rice Cultivation Techniques explained that he and his team recently visited farmers to reconfirm the willingness of farmers to apply for the line planting and weed control, referring to information collected through the recent first dialogue with farmers by the Project. Some farmers said that they are interested in applying for the line planting, but honestly concerned about lack of agricultural equipment. To deal with such concerns, the Project will teach them how to make and use simple tools like a ruler and a weeder by themselves considering sustainability of the activities.
During the implementation of the comparative cropping by the target farmers, the Project team will regularly visit and give them technical advice on the cultivation techniques in the whole cultivation process from land preparation to harvesting.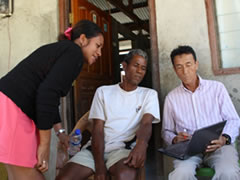 Project Team visiting and explain to farmers about the extension activities.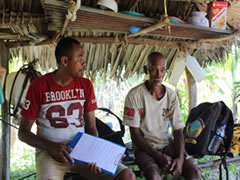 Project Team visiting and explain to farmers about the extension activities.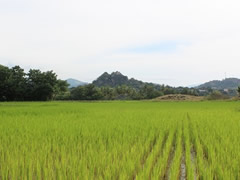 Current paddy field in Buluto.