The passion of local people for domestic rice at the CAAKUB's shop in the MAF can be well observed by the fact that the sales have been so far going well. Some customers even made order in advance with the CAAKUB as they worried about the availability of supply in their next visit.
The customers who visited the CAAKUB's shop came from various places in the town, while their reasons to buy the domestic rice are varied; some customers were looking for white rice for household consumption such as making porridge for their kid's breakfast and main regular meal for the day. Other customers were looking for red and black rice as they generally believe that these two types of rice could help them to cure their diseases like heart problem, blood sugar and obesity.
Regular customers selected CAAKUB's shop because they can get clean and fresh local rice with proper package there. Apart from its freshness and aromatic flavour, the good thing about the CAAKUB rice is that customers can right away pour the rice into a cooking pot without having to spend extra time to remove pebbles or other fragments that are mixed with the rice.
Mr. Cesar Gaio (34), a Timorese chef has his great desire to promote local foods by serving domestic rice at his take-away restaurant in Dili. He chose to serve domestic rice from the CAAKUB at his restaurant because the rice was fresh and clean. He used to buy domestic rice from other places in town and he spent additional time to remove the pebbles rather than using his time for doing other jobs in the kitchen. He thanks the CAAKUB for making his job easy by providing clean rice with a proper package.
Mr. Cesar further explained that in every week he usually buys 3 to 4 bags of 10kg, and if he had orders for catering from his customers, he buys up to six bags. He said that as he is going to expand his restaurant in the next coming weeks, he will buy more rice from the CAAKUB, therefore he asked the CAAKUB to maintain its current quality of the domestic rice and offer discount to its customers like him in the future.
Mr. Andrade Ximenes (28), a young resident of Dom Aleixo, Dili has chosen red and black rice as part of his main meal to help him maintain his weight and blood sugar. According to him, in the past he gained a lot of weight and had a hard time to control his blood sugar level. However, after consuming the red and black rice, he noticed there was tangible difference in his health.
Mrs. Lucia Araujo from Fatuhada Dili,(32) a mother of two kids noticed significant improvement of her children's eating habit after she cooked them porridge for breakfast by domestic rice. She noted in the past her kids were losing appetite to eat, however ever since she cooked domestic rice for them, they were able to finish the entire portion and asked for more. She even asked the government to use fresh domestic rice from the CAAKUB for its School Feeding Program to help the Timorese kids improve nutrition.
Thus there are not few Timorese people who love to eat domestic rice, and the Project and the MAF will continue to make the best efforts to promote the domestic rice so that as many Timorese people as possible can recognize the high value of the domestic rice and further develop it by themselves.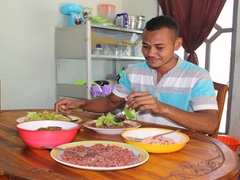 a Customer from Fatuhada chooses red and black rice for his health reason.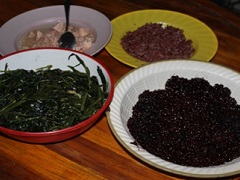 Black and white rice is served in a simple way.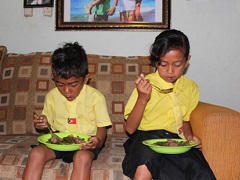 Kids enjoy eating porridge cooked by domestic rice.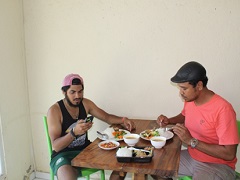 People enjoy eating domestic rice at a local restaurant in Dili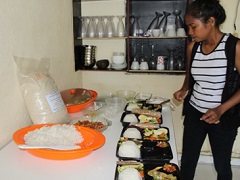 Domestic rice from the CAAKUB is being served at the restaurant of Mr. Cesar in Dili.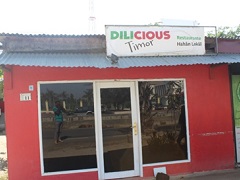 The restaurant of Mr. Cesar.