42 target farmers in Maliana I who joined the Comparative Cropping of random and line transplanting in the Project during the second cropping season of the last year were surprised to see the first-hand result of their harvest through the Yield Survey conducted by the Project. The overall results of the current Yield Survey indicated that the line transplanting leads to better results in production compared to the random transplanting. Farmers who regularly monitored their paddy fields by controlling water and weeds adequately as advised by the Project were satisfied with the good outcomes of harvest.
The Yield Survey of the Comparative Cropping was intended to help the target farmers directly observe the real benefit of improved cultivation techniques in the line transplanting and provide them with some knowledge about the importance of regular supervision to their paddy fields.
For instance, Maria da Costa (42), a farmer from Odomau village was able to produce 47.8 kg in her plot of line transplanting in 0.017ha compared to her plot of random transplanting which produced only 34 kg in the area of 0.015 ha. She was surprised by the result because she thought that she was not able to produce that much without the intervention of the chemical fertilizer that she used to apply in the past. After joining the project activity, she started to realize that even frequent controls of the paddy field alone can help her increase the production without using the chemical fertilizer. She said that in this cropping season, she will continue to work with the Project to expand the line transplanting to 4 or 5 more plots in her paddy field.
Mr. Nariyoshi Odashima, Japanese Expert on Rice Cultivation Techniques said that the Comparative Cropping was intentionally introduced to target farmers in small scale so that they can easily see the effectiveness of the line transplanting. He wants every target farmer to notice that by constant observation of their paddy fields, water control and weeding can lead to increase in the production. Mr. Odashima also hopes that by observing results of the Yield Survey, farmers will gradually change their mind-sets toward the line transplanting and be able to make up their minds to implement it in their paddy fields in the coming seasons as well as be aware of required things to increase the production.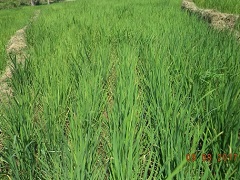 Comparative Cropping Plot after 30 days.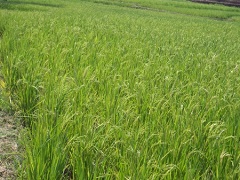 Comparative Cropping at flowering stage.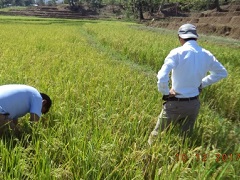 Mr. Amaro, National Director of Agriculture, Horticulture & Extension of MAF and Mr. Odashima visited the Comparative Cropping plot in Raifun Village.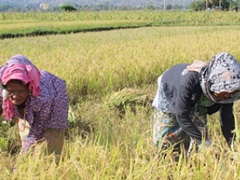 Farmers in Raifun harvested in the Comparative Cropping plot.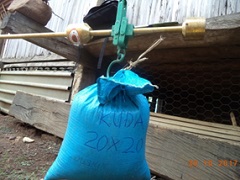 The Project Monitoring Staff conducting the Yield Survey.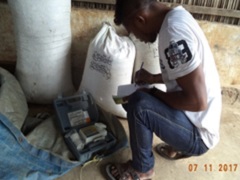 The Yield Survey conducted by the Project.