Ms. Ieko Kakuta is an anthropologist and a professor of Faculty of International Relations at Asia University in Japan. She has studied Water Users' Associations (WUAs) in developing countries, especially in the Philippines. She first heard about Timor-Leste (TL) in 1991 when she watched the Santa Cruz massacre[1] on TV. After experiencing the country by herself, she was moved by the peaceful condition of the society despite of its past turbulent history, at the same times friendliness of the people and the beauty of its landscape.
During her recent visit in TL for the mission of technical guidance to the Project from February 10 to 21, 2018, she mainly visited the two Project Sites in Buluto and Maliana I and spent her time to meet various stakeholders including the MAF authorities, a chief of village, an extension worker, a gate keeper, President of the WUA and the staff of the FAO. Through her meetings with them, Prof. Kakuta had opportunities to know about the WUAs in TL and provided useful recommendations for the Project to help them develop as an effective organization in TL in the future.
Prof. Kakuta said that if farmers in Buluto and Maliana I use the irrigation water at maximum, they will be able to do double cropping in a year not only for rice cultivation but also for growing vegetables and other crops. She also wanted farmers to take advantage of the irrigation water to increase their production, while suggesting the WUAs to be able to independently operate for ensuring good management of irrigation facilities and fair water distribution to all farmers.
Moreover, Prof. Kakuta highlighted that for success of the WUAs in the future, decision makers must not be the outsiders like the MAF and the Project, but farmers themselves. Therefore, Prof. Kakuta requested the Project to continue to facilitate the WUAs by respecting their existing law and letting them take the lead of running the WUAs by themselves.
Prof. Kakuta appreciated the effort by the Project to create market for farmers to sell their rice for earning cash, and as the market for domestic rice develops in the future, she believes that farmers will be convinced more to grow rice and increase their production. She observed that farmers can solve the problem by themselves, while the Project must become a good supporter to help them achieve their goals and be independent.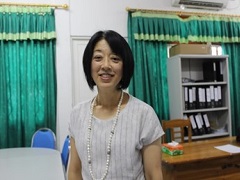 Prof. Kakuta.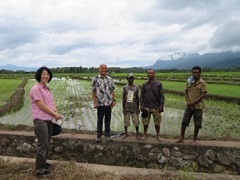 Prof. Kakuta and Mr. Niwa visiting Maliana I.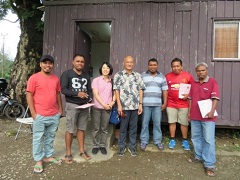 Prof. Kakuta visited the Project Office in Maliana, Bobonaro Munipality.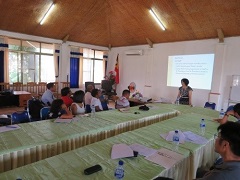 Prof. Kakuta gave her lecture to the Project Officers on Case Study on Successful Irrigation System in the Philippines.