In the past, it was reported that paddy fields downstream were piled up with rubbish such as plastic bottles and bags, broken glasses and other chemical substances such as petrol and oil which were thrown into the irrigation recklessly. As the result, the water from irrigation channels got contaminated while paddy's growth in the field was also negatively affected. Some farmers even suffered from injury while working in their fields due to the broken glasses hidden in the soil. Therefore, to address the situation above, the local authorities came up with enforcement of traditional customary law known as Tara Bandu which aims at keeping the irrigation facilities clean and properly maintained.
Although this Tara Bandu activity is mainly implemented in three villages such as Raifun, Ritabou and Lahomea, the other two villages such Holsa and Odomau which are the beneficiaries of Maliana I irrigation are also required to implement it in their areas.
Mr. Maximiano dos Santos Araújo (46), Chief of Ritabou village, said that Tara Bandu was intended not only to give penalty to people who violated the law but also to improve awareness about conserving the irrigation facilities in the community. He hoped that through this traditional approach, the community in his village will slowly change their attitudes toward keeping the irrigation facilities clean and understanding the effect of their negative attitudes for the long term.
Mr. João Bertae Barreto (63), a farmer from Raifun village thanked the initiative taken by the village authority to sanction people living around the irrigation area who breached Tara Bandu. He voluntarily picked up the plastic bag from the irrigation channel, while hoping that other farmers will also start doing the same thing. Mr. Mario do Carmo (39), another farmer from Odomau village realized that looking after the irrigation facility is a part of the farmers' jobs because without it farmers will not be able to irrigate their paddy fields, therefore he called on other farmers who benefit from Maliana I Irrigation to take care of the irrigation facilities for the sake of all farmers.
The Project will continuously facilitate farmers to recognize that they should be main actors in proper operation and maintenance of the irrigation facilities so that they can effectively use them and increase the rice production.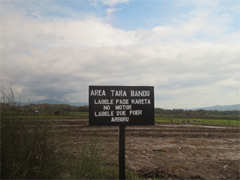 Signboard being set up in the Tara Bandu area.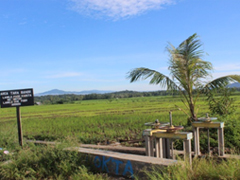 Tara Bandu area in Maliana I.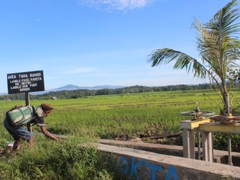 Farmers cleaning up the irrigation around Tara Bandu area (1).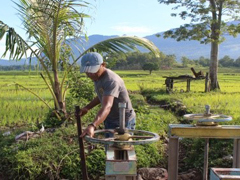 Farmers cleaning up the irrigation around Tara Bandu area (2).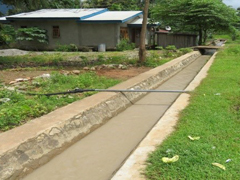 Irrigation channel in Maliana I after being cleaned up.