Last year, farmers in both Laleia and Vemasse faced difficulties of finding threshing machines after harvesting their crops. It was actually observed that after harvesting, farmers kept their paddies for two weeks or more in the paddy fields to get their turns of renting the threshing machines. Moreover, because of lack of the threshing machines, there was another issue which was that farmers could neither thresh nor sell the paddies to the ACELDA timely. As the result, the quality of the paddies was negatively affected for being kept too long under the sun and continuous raining. To help them address that issue, the Project provided eight threshing machines for farmers in the area so that they can easily access the threshing machines soon after harvesting their paddies.
Mrs. Maria Odete do Céu Guterres, Director General for Agriculture of Ministry of Agriculture and Fisheries (MAF), thanked the Project for its continuous support to help farmers increase the production and access the market for selling their paddies. She called on the farmers' groups in both Laleia and Vemasse to responsibly use those threshing machines for the benefit of all farmers. Besides that, Mrs. Odete requested the farmers to be less dependent on the government and be more motivated to increase the production and earn more incomes so that they will be able to buy the threshing machines by their own in the future.
Mr. Masafumi Nagaishi, Chief Representative, JICA Timor-Leste Office appreciated that both of the MAF and the Project promote domestic rice in the country. He highlighted that mutual coordination between the Project, the MAF and the Ministry of Commerce and Industry (MCI) is indispensable to establish value chain from production, distribution to sales in Timor-Leste. He hoped that farmers will be able to secure their produce, while saving time with the threshing machines handed over to them today.
On the other hand, after the regulation of using the threshing machines was announced to the other members of the farmers' groups, the representatives of the farmers' associations from both Laleia and Vemasse thanked the Project for responding to their needs of having the threshing machines. They were grateful that the Project has relieved some difficulties they were facing during the harvest, while very much looking forward to using the new threshing machines for the first harvest of this year which is largely expected in June.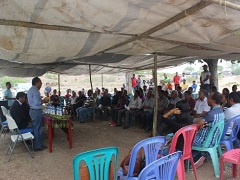 Scene of the handing over ceremony of threshing machines.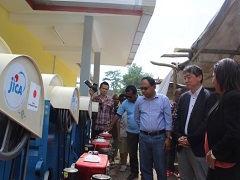 Mrs. Odete, Mr. Fernando Egidio Amaral, National Director of Agro-Commerce of MAF and Mr. Nagaishi watching the threshing machines.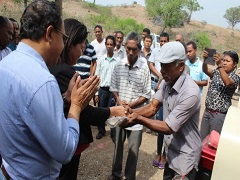 Representative of the farmers' association received the operation manual of the threshing machines from the MAF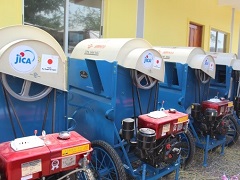 Eight threshing machines provided for the farmers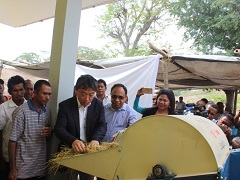 Mr. Nagaishi testing the threshing machine.