Six restaurants and two hotels which signed a contract with the CAAKUB farmers' association and the ACELDA at Japan Embassy in May have started to serve domestic rice for their customers. They are namely;
1. Genivan Restaurant (Location: Kampung Alor close to Warung Soto, Phone: 77777706)
2. Dilicious Timor Restaurant (Location: Bebora in front of the Futsal field, Phone: 77336512)
3. Warung Solo (Location: Kampung Alor along the road to Mosque, Phone: 73629222)
4. Agora Food Studio (Location: Kampung Alor in Leli, Phone: 77982320)
5. Megamor Restaurant (Location: In front of Parliament office, Phone: 77249030)
6. Pantai Laut Restaurant (Location: In Tais market, Colmera, Phone: 77293200)
7. Timor Plaza Hotel (Location: Timor Plaza, Comoro, and Phone: 331-3186/ 3288)
8. Hotel Timor (Location: Colmera in front of Dili Port, Phone: 78011135/3324502/ 3324505)
They said that although they have just introduced domestic rice at their restaurants less than a month ago, there is not a single day that domestic rice is not requested. Every day the restaurants are packed by the customers who love eating the locally grown rice.
Mrs. Hartati (52), the manager of Warung Solo noticed gradual improvement on the number of customers after she started to serve domestic rice at her restaurant; people who come to her restaurant in one day now become her regular customers, while some of them even invited their friends to come and eat there. In addition, apart from plain white rice, she also prepares fried rice from domestic rice for her customers to choose. On the other hand, Mrs. Cepeda Trindade (38), the manager of the Megamor Restaurant said that not only the local people but also the foreign visitors come to taste the domestic rice. Some customers even ask for more after finishing their plates.
Furthermore, some of the regular customers of Warung Solo and Megamor Restaurant already asked for specific types of domestic rice such as Membramo. Therefore, they asked the Project and the MAF to pass on that message to farmers so that they can start growing the paddies based on their customers' needs.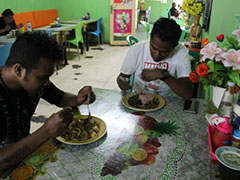 Customers enjoy eating domestic rice.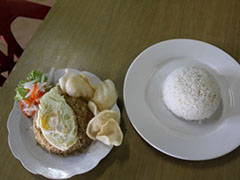 Fried rice and plain rice served at Warung Solo.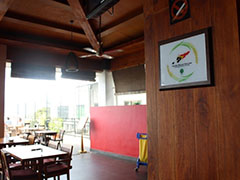 Panorama Restaurant at Timor Plaza Hotel with logo of using 100% domestic rice.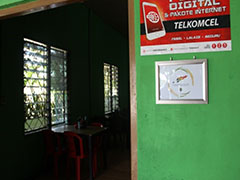 Warung Solo restaurant with logo of using 100% domestic rice.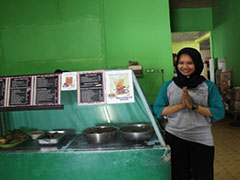 Staff of Warung Solo.