The Project is now revisiting 38 farmers in Maliana I who joined its Comparative Cropping in the first cropping of this year to inform them about the results of the yields they produced and give them necessary advice on rice cultivation techniques, which include normalization of the crop calendar and marketing, to help them increase their productivity in the next cropping.
In the first cropping of 2018, among 38 target farmers in the comparative cropping, 4.7 ton/ha was produced in the line transplanting plot on average, while 3.8 ton/ha in the conventional plot of the random transplanting. Overall, the line transplanting obtained more 23% yield than the conventional one.
Mr. Gaspar Colai (45), a farmer from Lahomea village was surprised with the result of the yield survey since he did not even expect that he was able to obtain 15% more of the yield in his line transplanting plot compared to that in the conventional one. He said that in the past he was able to produce only 25 sacks of rice in his 5 plots close to his house. However, after implementing the line transplanting in the same plots, he was able to produce 35 sacks. He is convinced that the advice by the Project team about regular supervision of the paddy field particularly for water and weeding control is one of the means to help increase production. He is very much looking forward to applying the techniques taught by the Project in his other paddy fields in the next cropping in December for the sales.
Mr. Nariyoshi Odashima, Japanese Expert on Cultivation Techniques said that the average yield of the 38 farmers was 1.4 ton/ha above the average yield of 3.3 ton/ha in Bobonaro in 2017. When converting it to cash, 1.4 ton is equivalent to $560 as additional income farmers can earn. He explained that if farmers apply the improved techniques and follow normalization of the crop calendar introduced by the Project, they will be able to increase their production by 50 %, minimizing their production costs and helping them start the second cropping in time when water from the irrigation is still available. He further explained that their higher motivation and enthusiasm of the rice production is the key for achieving the benefits above.
The Project and the MAF expect that after observing the results of the yield survey, the 38 target farmers will be able to better understand the main benefits of the improved techniques of line transplanting and be convinced to apply those techniques in the next cropping to help them increase production and pursue their dream to produce more for sales.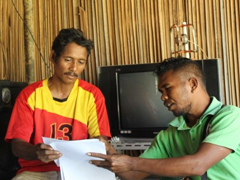 The Project team explaining about results of the Yeild Survey to 38 farmers in Maliana I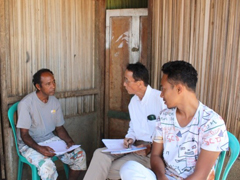 The Project team explaining about results of the Yeild Survey to 38 farmers in Maliana I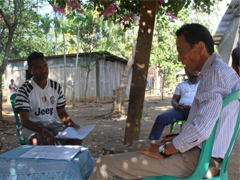 Photo: Mr. Odashima explaining about results of the Yeild Survey to 38 farmers in Maliana I