On 4th of October 2018 the second signing ceremony for domestic rice sale between the CAAKUB Farmer Association of Bobonaro and ACELDA Company with seven new restaurants was held at MAF Compound in Dili. The signing ceremony was the continuation of the first signing ceremony which was conducted last May at the Japanese Embassy in Dili.
The ceremony was attended by the new Minister of MAF, His Excellency Mr. Joaquim José Gusmão dos Reis Martins, Ambassador of Japan his honourable Mr Hiroshi Minami, the Representative of JICA, Mr. Masafumi Nagaishi, the local representatives from municipalities such as Baucau, Bobonaro, Manatuto and the representatives of the restaurants. The spouse of Prime Minister, Ms Isabel Fereira who is the regular customers of the CAAKUB's rice was also among the attendance.
Minister of MAF Mr Joaquim recognized that the current domestic supply is still unable to cover its domestic needs, and therefore he is very committed to work seriously under his leadership to increase the domestic rice production. He praised the JICA's commitment to increase farmer's household income through strengthening the rice production and he called on both MAP and farmers to work hard enough for ensuring the food security in TL. He thanked the restaurants for promoting domestic rice and called on all the Timorese to take pride on consuming their local products.
Ambassador of Japan, Mr. Hiroshi Minami said that the Government of Japan through JICA has been supporting the efforts to increase the rice production in Timor-Leste. He believed that increasing the quantity and improving quality of domestic rice is critical. According to him, domestic rice market must be expanded so that farmers will be more motivated to increase their production.
The representative of the restaurants Mrs. Theresa (29) thanked National Directorate of Agro-Commerce and the JICA Project for introducing the domestic rice to her restaurant. She said that from now on she will serve domestic rice at her restaurant to help promote the domestic rice and contribute to the income of the local farmers. She asked the CAAKUB and ACELDA to continuously provide good quality of domestic rice and regular supply to the restaurants for ensuring the sustainability.
All together there are 13 restaurants and 2 hotels which are now serving 100% of domestic rice from CAAKUB or ACELDA to their customers. The sale of domestic rice has also now expanded to other municipalities such as Maliana. In the future, it is expected that the same activity will be expanded to more restaurants in the country under mutual collaboration from MAP and JICA project.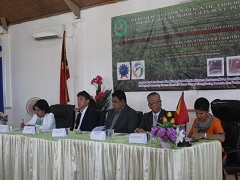 (From left) Dignitaries from MAP, Japanese Embassy, JICA TL and Ms. Isabel Fereira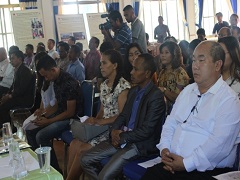 The representatives from the restaurants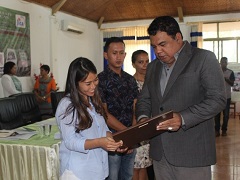 Minister of MAF, Joaquim José Gusmão dos Reis Martins presented domestic rice logo to the Green Resto Manager.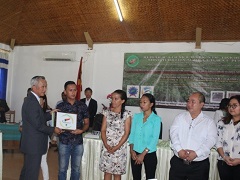 Ambassador Hiroshi Minami presented logo of 100% domestic rice use to restaurants managers.