The Normalization of the Cropping Calendar is an approach proposed by the MAF and the Project to modify the old calendar farmers applied in the past, the purpose is to start the early cropping as soon as the rainy season begins.
In the past, farmers in Buluto area including Vemasse had inadequate experience to conduct the second cropping due to the traditional irrigation canal which had limited capacity to provide adequate water to all the paddy fields in that area. After the rehabilitation of the Buluto irrigation scheme, it has the capacity to secure water all year round, which means that the farmers in that area can have a higher chance to do the double cropping. However, farmers in Buluto still applies the old calendar.
The Japanese Expert of rice cultivation techniques, Mr. Odashima, said that if farmers seriously consider doing the early cropping, they will be able to catch the market opportunity from the early harvest and have the opportunity to do the second cropping without water shortages. In addition, he said that market opportunity for domestic rice is now developed by the MAF and the Project, therefore, he asked farmers in Buluto particularly in Vemasse to take the chance to increase their production and get income from rice cultivation.
The workshops of the normalization of the cropping calendar in Buluto were conducted at village level. The village chiefs themselves chaired the workshop and will take the primary role in implementing the early cropping. The first workshop in Vemasse, Uigai village was attended by the local authorities, MAP, target farmers in that area, and the Project team.
The workshop of the normalization of the cropping calendar has been conducted up to 12 venues at 10 target villages at the Project sites in both Buluto and Maliana I.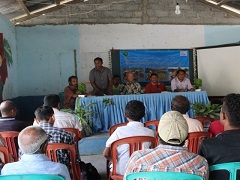 Village Chief of Kaikua opened the workshop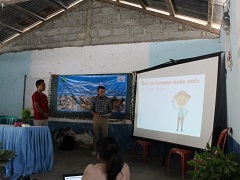 Mr. Odashima presenting Normalization of Cropping Calendar to farmers

Farmers carefully listening to Normalization of Cropping Calendar delivered by Project team.