From 20th to 27th of October, a team of five people; three from National Directory of Agro Commerce, MAP (Ministry of Agriculture and Fisheries) and two members from the Project were sent to Okinawa, Japan for attending the training on Farmers' Market Establishment. The members were Mr. Fernando Egido Amaral (National Director of Agro-Commerce), Mr. Manuel dos Santos (Team Leader of Supply Chain), Ms. Maria Natalice Ximenes (Team Leader of Livestock and Supply Chain), Mr. Henrique J.A. Gonçalves (JICA Project national staff) and Mr. Shinji Hironaka (JICA expert).
There has not been farmer's market in Timor-Leste, therefore, this training is very important for the participants not only to learn about the operation and management of farmers' market, but also to learn about the process of building farmers' market and how farmers access to it. In the future, when the Agro Commerce establishes the first farmers' market ever in Timor-Leste, they have general ideas on what to do, how to effectively operate and how to manage it.
During the training, the team also had chances to visit several farmers' markets run by JA Okinawa to directly observe the work systems and marketing chain carried out at those markets
National Director of Agro-Commerce MAP, Mr. Fernando Egidio Amaral expressed his thanks to
JA Okinawa for sharing their experiences and knowledge about farmers' markets. He hopes that under collaboration with the JICA Project (Output 3), his dream to set up the first ever farmers' market at MAP, Dili will be realized. He further explained that once the farmers' market is established, nine farmers' associations from several municipalities can start to bring various products to the farmers' market. Women groups, youths and local farmers in Dili can also bring their products to the farmers' market.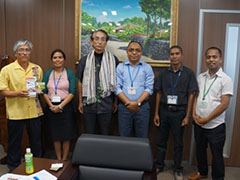 Photo with Mr. Fomoshige Futema, CEO of JA Okinawa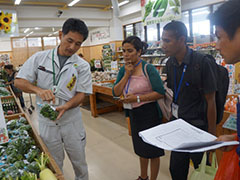 Explanation on effective packing method by JA Okinawa's Manager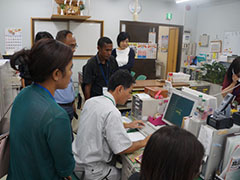 Explanation on payment system by JA Okinawa's Manager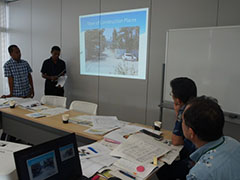 Presentation on a new design of the Timor Leste's farmers' market by Mr. Manuel dos Santos.