On 4th of December 2018 the Farmer Association of Bobonaro, the CAAKUB conducted the second General Assembly at the Municipality office of Bobonaro. The event was attended by representative of central MAP (Agro Commerce) Mr. Fernando Egidio Amaral, President of Municipality Mr. Zeferino, representative of MAP Bobonaro, Sub District Administrators and local authorities of Maliana, all representatives of farmers from five villages in Maliana and representative of the JICA project Mr. Hironaka Shinji.
Based upon the internal procedure of the CAAKUB, General Assembly is held every two years aiming at strengthening its organizational structure based on leadership, accountability as well as effectiveness in operation and management. Incomplete organizational structure, which could impede its daily operation, was one of main issues encountered by the CAAKUB in the last two years. Therefore, the second general assembly is crucial not only to promote further improvement of the CAAKUB but also to help recover from its past organization structure issue.
New President of the CAAKUB, Mr. Sirilo Moniz (47), who is a current village chief of Odomau and a rice farmer himself, said that he will try his best to bring CAAKUB more closely to the farmers in Maliana who still have not known the CAAKUB as the farmer association. He asked his new board members to learn from past lessons to develop CAAKUB in the future. In addition, he asked for continuous support and guidance from the MAP and JICA project to help the CAAKUB to be a self-reliant farmer association in the future.
President of Municipality of Bobonaro, Mr. Zeferino who is former president (the Association was called AAS at that time) asked the new board members to be more motivated and work harder despite of all challenges they face. He asked them to be more accountable in using the CAAKUB funding and continue on-going efforts in promoting domestic rice to the market. He hopes that the CAAKUB will become a model that other farmer associations can learn from.
Besides the President, other key positions of the CAAKUB such as Secretary, Treasurer and Auditing Officials were also elected during this General Assembly. The MAP and the Project believed that the new board members will consider the structural issues and the CAAKUB can operate more effectively with a better structure. Both the MAP and the Project are very much looking forward to working with the newly organized CAAKUB to strengthen it to become more reliable farmer association in the future.
A representative of farmers from Odomau Village present nominees to the forum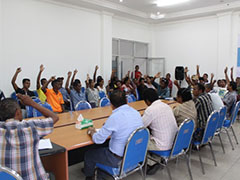 Farmers conducted direct election to elect new board members of the CAAKUB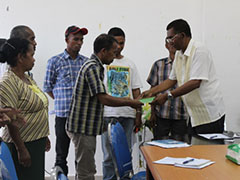 President Municipality of Bobonaro, Mr Zeferino officially handed over declaration of appointment to new President of the CAAKUB.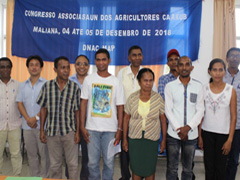 New board members with MAP, Municipality authorities, and JICA project members.