The Ministry for Agriculture and Fisheries (MAF) and Project conducted the launching ceremonies of rice cultivation in Buluto on 12 December and in Maliana I on 14 December. The events were participated by his Excellency, Minister for the MAF, Mr. Joaquim Jose Gusmão Martins, the Secretary General of the MAF, Mr. Cesár da Cruz, National Directors of the MAF, representatives of the related municipalities, local authorities, the targeted farmers and the Project members.
At the ceremony, Minister for the MAF, Mr. Joaquim Martins thanked the Project for promoting normalization of cropping calendar and he urged all farmers at the Project sites, Buluto and Maliana I to properly implement it so that they take full advantages of the irrigation water by growing rice two times a year and grow other additional crops. He also explained that one of the government goals is to diminish imported rice as much as possible in the future. In order to achieve this goal, it is crucial for farmers to secure certain amount of rice by increasing their rice production. In addition, he explained that the MAF would pay more attention on purchasing domestic rice rather than importing rice under the cooperation with the National Logistic Center (NLC) in the future.
Through these launching ceremonies the MAF and Project expect that other farmers at the Project sites who have not followed cropping calendar will understand the benefits and importance of normalization of cropping calendar and follow it. Among the benefits are catching up market opportunity by harvesting earlier and have higher chances to do the second cropping without concern about water shortages. Meanwhile, it is expected that cropping environment like water allocation can be organized better than current one under collaboration among farmers through the process of normalized cropping calendar. The MAF and Project will continuously provide necessary support to local authorities and the farmers to promote normalization of cropping calendar.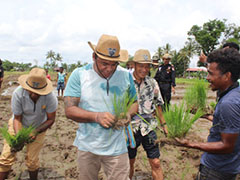 Minister for MAF, Mr Joaquim Martins and Chief Advisor of the Project, Mr Noriaki Niwa were planting rice during the ceremony in Maliana I.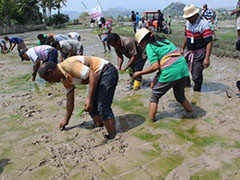 Secretary General of MAF, Mr. Cesar da Cruz and the farmers were planting rice during the ceremony in Laleia, Buluto.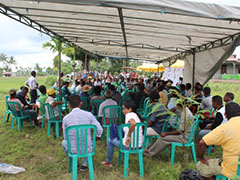 The Minister for MAF having dialogue with the farmers of Maliana I.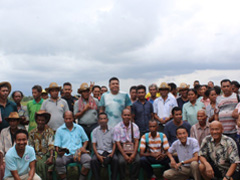 The Minister for MAF, the farmers and Project members at the ceremony in Maliana I