218 farmers in Maliana I (20% of all farmers) and 148 farmers in Buluto (32% of all farmers) have now followed the early cropping according to the normalization of crop calendar introduced by the Project and MAF. These farmers aim to grasp market opportunity first and conduct early second cropping or other alternatives at rice field after harvesting. This is a kind of behavior change for farmers. Farmer considered that rice couldn't deliver any cash income to farmers even though required heavy production cost. That is why farmer had low motivation for rice crop and produced rice for family consumption only. Meanwhile, farmers have realized from experience that the normalization of the crop calendar will make it possible to meet market needs.
The number of farmers increased from last year. The main reason is not only potential market opportunity but also stakeholders like administrator and village chief showing leadership to begin crop first to other farmers.
Mr. Cirilio Mau Lopes (58), chief village of Lahomea who is also a farmer said that he was convinced with the explanation from the Project during the early cropping workshop and took the lead to implement it. In the beginning he shared the same concern like other farmers in his village over the amount of rain. He was worried that there would not be enough raining after he gets started and his field would be affected. After the transplanting, however, his paddy field received enough raining. Now, he became realized that if he did not start in the first place his paddies would not have grown bigger as they are now. He said that he will not miss his chance to do the second cropping by implementing the early cropping while water from Maliana I irrigation is still adequately available.
The local leaders who have implemented the early cropping this year at both Project sites in Maliana I and Buluto called on farmers in the area who have not followed the early cropping not to hesitate to implement it. After experiencing firsthand they said that early cropping can actually bring benefits to farmers and it has fewer risks than what they had anticipated.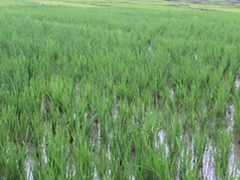 the first early cropping launching plots in Maliana I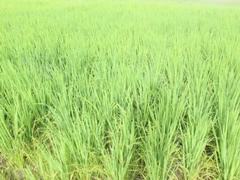 the first early cropping launching plots in Laleia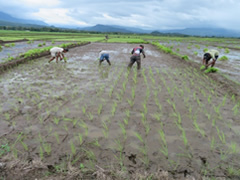 farmers in Buluto conducting early cropping transplanting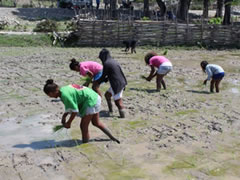 farmers in maliana I conducting early cropping transplanting