The Project conducted cooking demonstration on rice flour dish in Maliana I on February 13 and East Timor Development Agency Job Training Center (ETDA) in Dili on February 15, 2019. The cooking demonstration in Maliana was attended by eight women who are the members of four established women groups chosen by the National Directorate of Agro-Commerce, Ministry of Agriculture and Fishery (MAF), while the demonstration in Dili was attended by approximately 20 culinary students of ETDA and staffs of the National Directorate of Agro-Commerce, MAF. The cooking demonstration is intended to pass on techniques and skills of rice flour's dishes to the participants, increase their knowledge on a great range of utilization and advantages of rice flour, as well as to increase their interests on rice flour dishes.
During the demonstration, Mr. Satoshi Hagita, a chairman of the Non-Profit Organization, Country Arroz Promote Network, and Ms. Ayari Shiba, short term expert on rice processing and products development introduced techniques to prepare rice flour dish while teaching appropriate measurement of ingredients, temperature, and length of cooking time. More than 20 rice flour dishes were introduced, which included sponge cake, roll cake, cupcake, steam cake, crackers, cookies, fried chickens, custard crape, pasta and ice cream.
The participants were surprised to see cooked dishes such as ice cream and pasta that they had never prepared before, and they carefully watched the instructors and took a memo seriously. The participants have cooked some of the dishes such as the steam cake and custard crapes using wheat flour before, not rice flour. And they found that dished using rice flour tasted more delicious.
Ms. Celeste de Jesus (32), a member of the women group from Maliana who have made steam cakes using wheat flour, said that after learning the use of rice flour she wants to try to make steam cakes using rice flour. She will cook the cake for her family first and sell it in front of her house for the trial basis before selling the cake in large scale. Other participants of the women groups said that they found especially, custard crapes and sponge cakes were very tasty and appetizing. Although they had little experience in making them in the past, they believe that they can make good dished with the cooking instruction provided by this demonstration.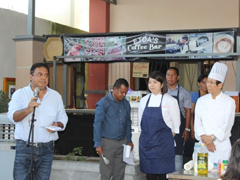 Minister for MAF, Mr. Joaquim Gusmão Martins officially opened the cooking demonstration at ETDA (left), Ms. Shiba (center in front), Mr. Hagita (right in front)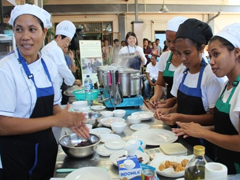 Culinary students of ETDA participated to cook the dishes using rice flour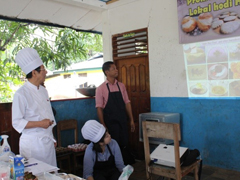 The demonstration to the women groups in Maliana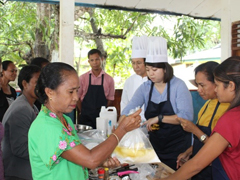 The demonstration to the women groups in Maliana