148 farmers in Buluto and 218 farmers in Maliana I, who followed the normalization of cropping calendar, starting rice cultivation in December 2018 and January 2019, have now started to harvest paddy. This harvest time is one month earlier compared to the previous years. Farmers who have followed the early cropping notice that they can catch up market opportunity through early harvest this year and gain cash in hand earlier compared to the previous years. They said that early cropping has brought good results to them rather than potential risks they previously anticipated.
The harvest ceremony was held in Buluto on March 26, 2018 and in Maliana I on April 16, 2019 in order to celebrate paddy harvest and promote the cropping calendar. The ceremonies were attended by Minister for Agriculture and Fisheries (MAF), His Excellency Mr. Joaquim José Gusmão dos Reis Martins, Director General of MAF, Ms. Ms. Maria Odete do Céu Guterres, the Representative of JICA, Mr. Kenichi Shishido and Mr. Toshiyasu Suzuki, MAF central and local staffs, the local representatives, the farmers and the project members. The total number of participants was around 250 people in respective ceremony.
Marcelina Soares (58) a farmer from Vemasse, Buluto, recently harvested her paddy, told that water from Buluto irrigation seems still enough amount for her to conduct the second rice cropping by the normalization of cropping calendar. Therefore, she really wants to take the advantage to do the second cropping by growing more rice for selling. She also mentioned that when the farmers in Vemasse start rice production all at the same time in the next cropping, concerns on attacks by livestock and birds could be reduced.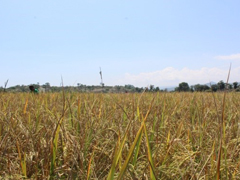 Paddy field in Buluto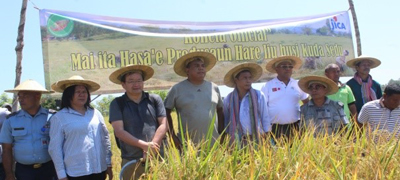 Harvest ceremony in Buluto attended by the Minister of MAF (4th from the left), Director General of MAF (2nd from the left), Director General, Rural Development Department, JICA Headquarters (3rd from the left)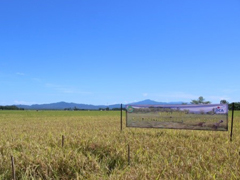 Paddy field in Maliana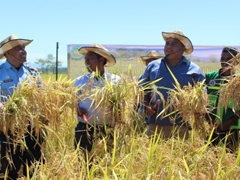 Harvest ceremony in Maliana