JICA's "Project for the Construction of Safe and Resilient Cities against Earthquakes and Tsunami Disasters" organized the "Training on operation and handling of drones" for the personnel of the National Service of Risk and Emergency Management (SNGRE). conducted in relation to the Output 1 activities of the project: "Based on the tsunami warning issued through the Technical Tsunami Warning Protocol, the pilot municipalities provide timely assistance to quickly evacuate the communities. "with the following purpose:
Gain knowledge of drone overview, maintenance and operating techniques.
Acquire skills to capture images and aerial shots of tsunami evacuation routes, evacuation sites, and the city from the coast.
Acquire skills to capture aerial images of evacuee displacement during tsunami evacuation drills and a wide area of disaster damage.
The objective of this Project is that both SNGRE and the Ministry of Urban Development and Housing (MIDUVI) have a technical support system, so that municipal governments can reduce the damage caused by the occurrence of earthquakes and tsunami in Ecuador and ; thus contribute to one of the global objectives of the "Sendai Framework for Disaster Risk Reduction 2015-2030", which seeks to "Substantially increase the number of countries where disaster risk reduction strategies are formulated at national and local levels by 2020 ".
This training was held as one of the Output 1 activities and was designed to improve the evacuation system using drones, in line with the priority action, Priority 4 of the Sendai Framework for Disaster Reduction - Increase preparedness for cases to provide an effective response and to "build back better" in the areas of recovery, rehabilitation and reconstruction. Likewise, through this training, eight participants from the different SNGRE departments acquired an overview of this equipment, its maintenance and its operating techniques to maneuver the drones provided by the project more effectively in planning evacuation by tsunami and disaster response.
SNGRE participants will share the knowledge acquired with their colleagues as part of their internal training, and will also use the "UAV Operations Handbook for Disaster Management" developed during the project.
Written by Yu Kumagai (CSR Project Coordinator by JICA)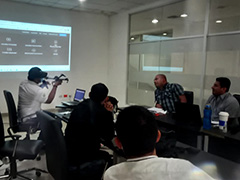 Theoretical course in SNGRE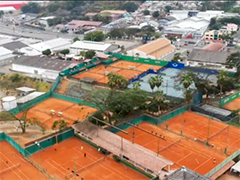 Images taken by the participants during the training (in Guayaquil)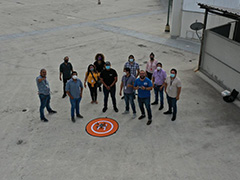 Images taken by the participants during the training (Samborondón)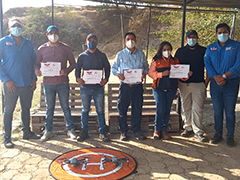 Training participants (1)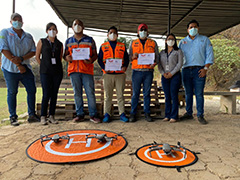 Training participants (2)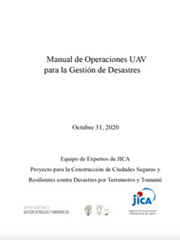 "UAV Operations Handbook for Disaster Management"