The painting in the ancient Egyptian's life plays an important role to transfer the history and the culture of the ancient Egyptian to the different nation. The ancient Egyptians decorated the walls of their palaces and tombs with brightly painted murals. In order to establish essential principles for conservation of such painted artifacts and to clarify the importance of teamwork in practicing conservation work, JICA GEM-CC project has conducted training courses on the painted objects since 2013.
The 2nd training course was held during the period from 20th to 27th February, 2014 by inviting 3 experts in this field from Japan; Dr. Yoko TANIGUCHI, assistant professor of the University of Tsukuba, Ms. Akiko NISHISAKA, invited Researcher of Waseda University and Ms. Kumi MASUDA, painting conservator, MASUDA paint Restoration Workshop. This course aimed to understand the structure of the painted objects and to examine appropriate conservation methods. The 16 trainees, same members as 1st training course, have participated in the 2nd training course, and they were divided into 4 groups; 3 conservators and a scientist in each group. The replicas of painted object which had been made in the 1st training course (February 2013) were used as a practical sample of the training course. The replica had been kept outside under the same condition of original painted objects, and had practically been deteriorated by wind, rain, sand, etc. By using these replicas, the trainees studied the structure of painted layer(s) and mechanism of deterioration.
In the practical training, trainees first observed the condition of the painted replicas carefully and then made a detail record of the condition by making common visual glossaries and drawings. They have made the cross-section sample of the pigments and observed their condition by microscope. They also examined the pigments and binding media with scanning electronic microscope (SEM), X-Ray Diffraction (XRD) and Fourier Transform Infrared Spetroscopy (FTIR). Through these training courses, we aimed to establish multi-disciplinary cooperation among conservators and scientists.
[Comments from the trainees after the training course]
Mr. Ahmed Khamis, a scientist in scanning electronic microscope.
"I have leant in the training course how to measure the changes in colors by using spectra photometer which was brought by JICA. The process of sample preparation and analysis of cross section sample was very good experience for me".
Mr. Bassem, Conservator in special project lab
"This training course makes a chain between the conservators and the scientists of GEM-CC. Cooperation among them are now better than before. In addition, it is also important that we could make unified terminology of the deterioration of the object."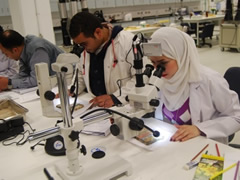 Observation of the replica with microscope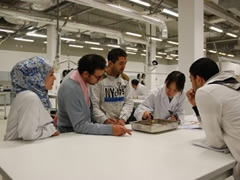 Lecture of the observation by using UV light (by lecturer Dr. Taniguchi)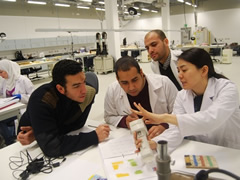 Lecture of color measurement with spectra photo meter (by lecturer Ms. Nishisaka)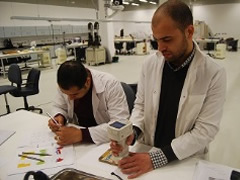 Color measurement with spectra photo meter by trainees.