In GEM-CC there are potential dangers and disasters that may happen as in other similar conservation institutions. It is most important for consideration of staff's health and laborious environment in GEM-CC to sniff and prevent them in advance as well as to protect its health and safety by itself. This series of training course aims not only to understand principle of occupational health and safety and to recognize potential risks in activity of conservation in GEM-CC, but also to take measures for the protection. Moreover, this course targets to disseminate output from the trainings among all the staffs in GEM-CC as well as to contribute activation of health and safety campaign for the whole organization.
JICA project has already implemented three training workshops in GEM-CC. Through their lectures and practices trainees have understood the principle of health and safety and its contents in details, and they have tried to improve some missing points and defects in each laboratory. Then, the workshop targeted at members of "Occupational Health and Safety Committee" established by GEM-CC was held to activate it, and the safety patrols and the evacuation drills were carried out for support of the Committee.
This course, held in GEM-CC from 10th to 12th August 2014, three Japanese trainees, Prof. Dr. Kirino (Tokyo University of Arts), Dr. Fujisawa (Tokyo National Institute for Cultural Properties, Tokyo) and Dr. Natsuko Kugiya (same as Dr. Fujisawa), have instructed this workshop. In addition to them, Mr. Mohamed Ramadan who is responsible to the Health and Safety Unit of GEM-CC has energetically involved in the workshop as the Training Coordinator.
This workshop mainly targeted to make a plan for implementing the safety patrol and the evacuation drill as well as to propose appropriate measures for improvement of each activities by the Occupational Health and Safety Committee. As outputs of this series of the course, the "GEM-CC Heath and Safety Handbook" was prepared to publish and the check-list for safety patrol was established. Moreover, the evacuation drill was successfully carried out by the plan and conduct of the Committee. Eventually, after the workshop, the Handbook is finalized with edition and to be published and distributed to all the staffs, which would disseminate awareness for health and safety among GEM-CC.
Obstacles of activity for the Committee were confirmed in this workshop. The instructors very much appreciated such points that GEM-CC moved forward to solve the difficulties and to accerelate self-disciplined activity. Through the four workshops with support of JICA, growing on the consciousness of health and safety is blooming in GEM-CC. We are following the situation with our warm eyes and continuing support still more.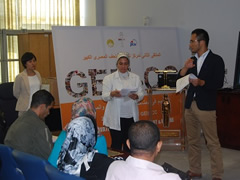 Dr. Fujisawa lecturing committee members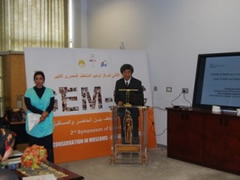 Prof. Kirino's Lecture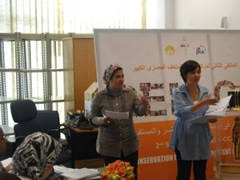 Dr. Kugiya's Lecture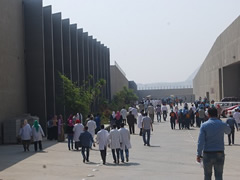 Emergency evacuation training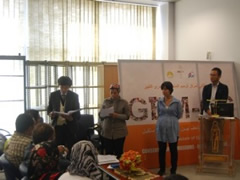 Descussion about the emergency evacuation training 1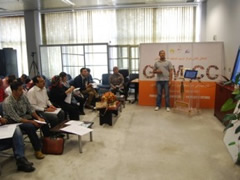 Training coordinator Mr. Ramadan descussing about the emergency evacuation training 2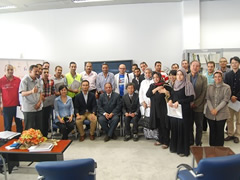 Course closing ceremony