The ancient Egyptian cultural heritages are made from various materials came from natural source. Among them stone is representative one used for huge amount of stella. Materials for artifacts are consisted of inorganic group (metal, fiancé, glass, precious stone and so on) as well as organic group (wood, papyrus, textile, ivory and so on). Especially, wood is widely applied to form precious artifacts with different purposes.
In the Wood laboratory of GEM-CC, the most precious and famous artifacts excavated from the tomb of King Tutankhamen, such as the golden bed, the sticks and the food boxes, have been conserving one after another. These wooden objects were processed with various materials and methods, and traces of the previous restoration and heavy deterioration caused by long-term storage with unsuitable condition are observed, which shows very complicated aspects towards conservators. On the other hand, oldest constitutional boat in Egypt called Aburawash Boat was transferred into the Special project laboratory and this extremely degraded object was subjected to conservation treatment. Thus, conservation for wooden artifacts is one of the most important themes and innovation of its technique based on appropriate code of ethics is an urgent issue for GEM-CC.
Since 2 years ago, the JICA Project, collaborated with GEM-CC for technical support, has planned Training Course on Wood Conservation held in GEM-CC. The Course, nevertheless, was forced to postpone by the turbulence of Egypt in the summer of 2013. Therefore, in February, 2014, the Project had a substitution in Japan instead of this unfortunate case. This training opportunity was held in the Botanical Garden of Tohoku University, Institute of Wood Technology of Akita Prefectural University, and Institute of Conservation for Cultural Property of Tohoku University of Art and Design as main venues highlighting on understanding of scientific properties of wood and application of the knowledge on conservation. Through its lectures and practices, trainees learned chemical and physical properties of wood and anatomy of tree. In addition, they inspected and observed a wooden Buddhist sculpture under conservation and learned Japanese way of conservation. Even though the Course was held in extremely cold season in Tohoku district of Japan and its duration was not so long, trainees were so excited in new information and techniques and concentrated in their training to absorb all the contents. After their coming back to Egypt, part of the trainees voluntarily had opportunities for follow-up training on identification technique of tree species, that was an output from the Course and they advanced to confirm the techniques by themselves.
The 2nd Course held mainly in the Wood laboratory of GEM-CC from 17th to 28th August, 2014 (10 days) aimed for further advanced understanding of scientific properties of wood with lectures and practices taken over from the 1st Course in Japan as well as for grasping of deteriorated wooden objects based on the learned scientific knowledge and experiences. As instructors, the Project invited Dr. Mikinari Ohyama from Tohoku University, Dr. Yasuji Kurimoto from Akita Prefectural University, and Dr. Yasushi Okada from Tohoku University of Arts and Design, who were same as the previous Course, and Dr. Medhat Abdallah, Head of the Wood laboratory and also a trainee in the Course of Japan, was joined as a supervisor. 12 trainees, divided into three groups, were mainly consisted of conservators from the Wood lab and the Special project lab and 2 scientists from the SEM lab and FTIR lab. Mr. Ahmed Abdelrabou, conservator of Wood lab, was appointed as the Training Coordinator, who has been working hard with the JICA project team for preparation and implementation of the Course as well as supporting follow-up training.
In this Course, firstly there was a lecture by Dr Medht on comprehensive review of wooden artifacts in the ancient Egyptian civilization, which gave a lot of hints to Japanese instructors for making technical direction of conservation to be prepared for the next Courses. Dr Ohyama had lectures on wood anatomy and tissue of wood as well as practices on identification technique for species of trees. Lectures on chemical and physical properties of wood and nature of deterioration with long-term aging as well as practices using thermal-degraded wooden samples on strength test, XRD analysis and FTIR analysis were instructed by Dr. Kurimoto. Trainees were eagerly concentrated in the training through the Course, which was appreciated by the instructor team.
In the intermediate, all the participants visited the Egyptian Museum at Tahrir as well as the Solar Boat Museum and the excavation site of 2nd solar boat bound on the King Khufu Pyramid to deeply understand wooden artifacts in the ancient Egypt and their conservation. Finally, under the direction of Dr. Okada, each group tried to observe and make a document on the wooden objects (Tutankhamen's bed and chair and wooden coffin selected by Dr. Medhat) with application of learned scientific views through the Course. These aforementioned artifacts showed extremely complicated deterioration so that trainees were looked to make efforts at their trials to scientifically understand the aspect clearly. Nevertheless, in the presentation session held at the end of the Course, there were well-disposed lectures to the points from three groups, which suggested that trainees had enough understanding toward the aims of the Course.
Training Course on Wood Conservation will be held two times more as the series. The aim of the Course will be focused on practical training for remedial conservation treatment of wooden object. In order to prepare the next Course to be held in 2015, follow-up training is going to plan by the Training Coordinator with JICA team. Building up a data bank for woods used in the ancient Egyptian artifacts, as the first trial in the world by GEM-CC itself, is still in a dream, but it may come true.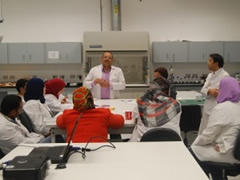 A lecture by Dr. Medhat of the Wood Lab. Head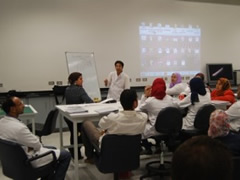 A lecture by Dr. Kurimoto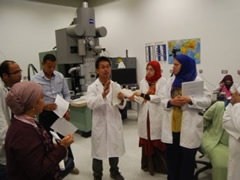 A lecture by Dr. Oyama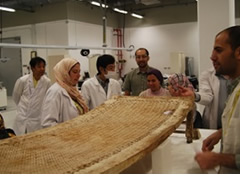 Dr. Okada explaining about the structure of the King Tut's bed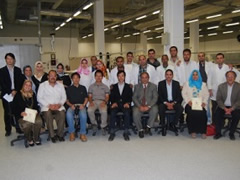 Course closing ceremony.