JICA GEM-CC project held 4th Training Course of Textile Conservation from 11th to 29th of November, 2014.
In Egypt, there are many organic archaeological artifacts including textile, and GEM-CC will receive and conserve great amount of Tutankhamun's textile collection in the near future, so that the conservators, scientists and curators should effectively work as a team in cooperation in the whole process from packing, transportation, conservation, and storing. The training course aims to teach conservation of organic artifacts such as textiles and improve and enlarge knowledge and techniques in stages.
In Phase II, there were three training courses of Textile Conservation (October, 2012 in Cairp, April 2013 in Cairo, September 2013, Tokyo). This time, JICA dispatched Dr. Mie Ishii, Visiting Researcher, Japan International Center for International Cooperation in Conservation, the National Research Institute for Cultural Properties, Tokyo, and Ms. Midori Yokoyama, Lecturer, NHK Bunka Center, Saitama as lecturers of this course.
Total 12 trainees were selected to this training course. The training course started from the lecture on fiber identification and its character. Then, the trainees were divided for three groups for the practice. Two groups practiced fabrics for conservation, dyeing, and adhesive support. The other group focused on stitch support. At the last, the trainee presented about conservation plans, and discussed about it. During the training, the scientists of the GEM-CC presented in Arabic about the fundamental knowledge about the science related to the contents of the training course. This was great opportunity to encourage to share knowledge between the conservators and scientist. In addition, it was the first time to make a presentation about occupational health and safety from the GEM-CC side, which resulted in defining the way of discarding the chemicals. At the end, the coordinator system has been established, so it is one of the outcomes of the training course that the coordinator was in charge of checking the attendance and fixing the letters for borrowing the equipment from other labs.
The textile training course have been organized several times, so the trainers and trainees knew each other, so this comfortable relations worked well for effective preparation and implementation of the training course. This training course was the last one of the textile training course, so it was impressed that trainers and trainees showed their happiness of the meeting and sadness of the leaving. This showed that the activities of cultural heritage protection promote not only transferring the knowledge, but the symbol of the friendship between Japan and Egypt.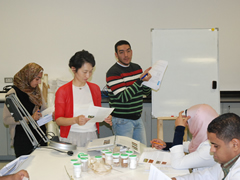 Lecture for the fiber identification and its character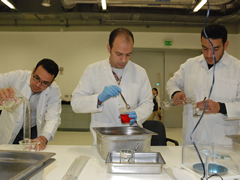 Experiment of the fiber identification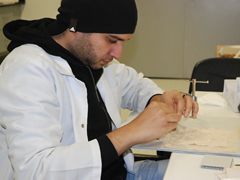 Stich support practice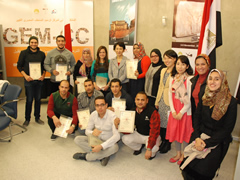 The group photo after the closing ceremony