Project Name
Technical and Vocational Education and Training Support Project
Country
Ghana
Term of Cooperation
4 years from April 2007 to March 2011
Implementing Organization
Council for Technical and Vocational Education and Training (COTVET)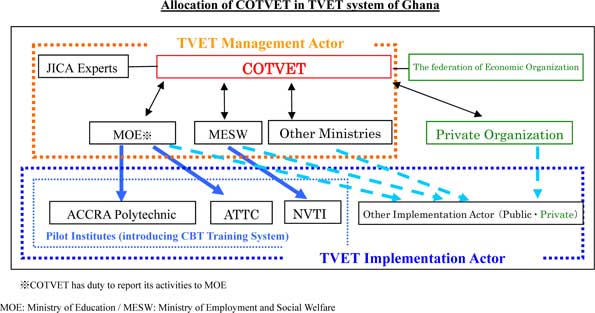 Project Background
Human resource development, particularly in industry sector is prioritized in Growth and Poverty Reduction StrategyⅡ (GPRS-Ⅱ, 2006-2009) for achieving better social and economic growth in Ghana.
In this country, several ministries had their own institutions in Technical and Vocational Education and Training (TVET) delivery and it caused the lack of consistency in quality of TVET. In addition, TVET programs were too theoretical training and not practical to the needs of the industry. Therefore, the government reformed education sector and, as part of the reform, established Law of TVET which includes establishment of new organization named Council for TVET (COTVET) that has been given to coordinate and oversee all aspects of TVET in 2006.
This project aims to strengthen the organizational capacity of COTVET, and its implementing institutions to deliver the new TVET system which based on Competency-Based Training (CBT), demand oriented technical training.
Purpose
Project Purpose :*To be achieved at the end of the project To strengthen implementation capacity of COTVET and its related institutions for introducing CBT in TVET delivery in Ghana, by strengthening organizational capacity of TVET implementing institutions for formulating necessary operational guideline on TVET through human resource development and by piloting CBT on mechanical engineering at TVET training institutions in and out of ACCRA, leading to forming a National TVET Qualifications Framework and Qualification Accreditation System under COTVET.
Overall goal: *To be achieved within 3 years after the completion of the project
Increased number of TVET Training Institutions with CBT.
Qualifications Accreditation System is operational
Outputs
COTVET is established and TVET implementing institutions acquire improved institutional and implementing capacity to deliver TVET under COTVET.
Improved operational mechanism over TVET delivery through lessons learned from piloting CBT on mechanical engineering.
Improved mechanism to introduce CBT on other technical areas.
Project Activities
| | |
| --- | --- |
| 1-1 | To assist counterparts in forming TVET Implementing Institutions such as COTVET, ITAC, NTQC, TQAC, and ITAC Sub-committee on mechanical engineering. |
| 1-2 | To enhance human resource development of technical staff at TVET Implementing Institutions for acquisition of necessary knowledge and skills to deliver TVET under COTVET framework. |
| 1-3 | To select pilot TVET Training Institutions for demonstrating CBT on mechanical engineering, leading to formulation of National TVET Qualifications Framework and Qualifications Accreditation System under COTVET framework. |
| 1-4 | To assist counterparts in formulating occupational standard (TVET qualifications levels), curriculum development on mechanical engineering as well as preparing standardized curriculum development and update methods. |
| 1-5 | To assist counterparts in conducting symposium and workshops to enhance understanding of public-private partnership, and public relations activities through web pages on internet and other medias. |
| 1-6 | To undertake M&E of the above mentioned activities. |
| 2-1 | To assist counterparts in development of syllabus and training modules for CBT at piloting TVET Training Institutions as well as in preparation of update method. |
| 2-2 | To assist counterparts in preparing Training of Trainers (TOT) materials on a) teaching method, b) curriculum development on mechanical engineering for instructors at pilot TVET Training Institutions, and c) Operational guideline and training materials for industrial-attachment programmes. |
| 2-3 | To assist counterparts in conducting TOT on teaching method and curriculum development on mechanical engineering for instructors at pilot TVET Training Institutions. |
| 2-4 | To assist counterparts in piloting CBT on mechanical engineering, leading to forming a National TVET Qualifications Framework and Qualification Accreditation System under COTVET. |
| 2-5 | To assist counterparts in conducting industrial-attachment programmme on mechanical engineering. |
| 2-6 | To assist counterparts in evaluating CBT at pilot TVET Training Institutions, and to reflect lessons learned onto the process of formulating a National TVET Qualifications Framework and Qualification Accreditation System under COTVET. |
| 2-7 | To assist counterparts in conducting M&E on the above activities. |
| 2-8 | To assist counterparts in reflecting lessons learned from the above activities onto training activities by other TVET Training Institutions. |
| 3-1 | To assist counterparts in conducting and introducing need-surveys. |
| 3-2 | To assist counterparts in enhancing more involvement of private sector with TVET delivery. |
| 3-3 | To assist counterparts in forming ITAC Sub-committees on areas other than mechanical engineering. |
| 3-4 | To assist counterparts in conducting advocacy on TVET delivery under COTVET framework through holding workshops and seminars on TVET. |
| 3-5 | To undertake M&E of the above mentioned activities. |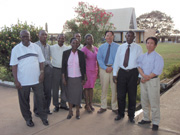 Executive Director of COTVET (the second from right) and Project Members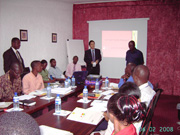 Workshop on CBT
Input Summary by Japanese Side
JICA experts(total 110Man/Month(approximately))
Fields of experts:Chief Advisor/School management, Training/Planning, IT, ET, AE etc
Provision of Equipment and Machineries
The necessary technical equipment and machineries for IT, ET, and AE
Counterpart Training
Training in Japan: School management, IT Network etc
Training in Third Countries:Curricula and teaching materials development, Maintenance of equipment, Appropriate technology development