The captioned apprenticeship programme[1] was convened Jointly by JICA and Institute of Tropical Disease - Universitas Airlangga. The programme aims to provide learning opportunity on practical aspects of biorisk management in BSL-3 laboratories. Seven professionals of ITD-UNAIR instructed two apprentices from the central laboratory of Badan POM.
Biorisk management is a system or framework that describes the use of practices, operations and training, safety equipment and buildings specifically designed to protect workers, the community and the environment from accidental exposure or unauthorized access, loss, theft, misuse, diversion or intentional release of infectious agents and toxins.
The programme covered various topics such as the construction and design, layout and maintenance of BSL-3 laboratory, Standard Operating Procedures (SOPs) for the BSL 3 laboratory, practices relating to procedures for entering and leaving the BSL 3 laboratory, procedures for laboratory work, application of basic principles of biosafety/biosecurity, the overall flow of sample handling and other routine laboratory work applicable to BSL 3.
Prof. dr. Maria Inge Lusida, Mkes., PhD, SpMK(K)., Director of Institute of Tropical Disease UNAIR emphasized the benefit of this programme for both ITD and Badan POM. Badan POM is working on the construction of Biosafety Level 3 laboratory and this practical training will be very useful to carry out research and testing in safe condition.
The program also provided an opportunity for Badan POM and ITD-UNAIR to continue their communication and establish a relationship that will mutually enhance the technical capacities of both institutions in biorisk management in future.
UNAIR has a long history of collaboration with JICA and many Japanese researchers in the field of research and studies on infectious diseases using the BSL 3 laboratory, which was built by JICA/JST SATREPS (2010 -2014) and has been operated and managed for many years with KOBE University and others. ITD-UNAIR's BSL-3 laboratory is often a place of learning due to the limited presence of BSL-3 in Indonesia.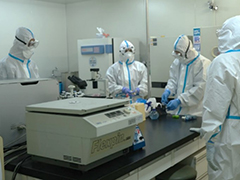 Instructors explained about the equipment and its function to two apprentices in BSL3 laboratory.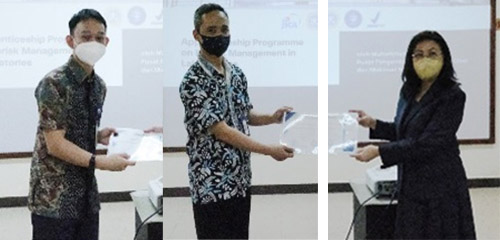 (Right) Prof. dr. Maria Inge Lusida, Mkes., PhD, SpMK(K), Director of Institute of Tropical Disease UNAIR presented the certificates to two apprentices.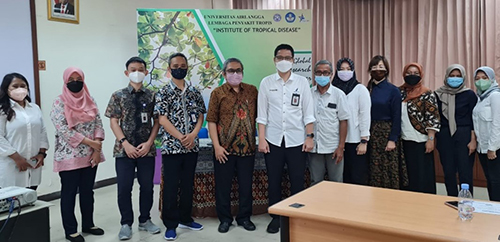 Closing Session
(Center) Mr Mohamad Kashuri, S.Si., Apt., M.Farm, Head of PPPOMN of Badan POM, (to the left) Dr Marcelino Rudiyanto, Drs., Apt., M.Si., PhD, Head of Cooperation ITD, (forth from the right) Ms Noriko Iseki, JICA, made remarks in the closing session. In the picture (left to right), Ms Jezzy Renova Dewantari, S.Si, ITD, Ms Mulia Sondari, Bureau of Cooperation and Public Relations, BPOM, Mr Muhamad Erdiansyah, S.Si., M.Si and Mr Yus Hargono Cahyaning Yudi, S.Si., M.Sc, PPPOMN, Badan POM, , Mr Musyadi and Ms Aldise Mareta Nastri, M.Si, ITD, Ms Anisa Muslicha, JICA, Ms Adita Ayu Permanasari, M.Si, and drh. Rima Ratnanggana P, M.Si, ITD are also present.
Note
[1] Course type : Practical exercises on risk assessment and biorisk control, including architecting, laboratory building, gene modification, experiments using animals and other related subjects. Eligibility : Biorisk manager, intermediate specialist in charge of biorisk management in the laboratory, who should already have basic knowledge gained from basic training courses available elsewhere, for example the Indonesian Biorisk Association (Asosiasi Biorisiko Indonesia, ABI).