Project Name
Project on Self-sustainable Community Empowerment Network Formulation in Nanggroe Aceh Darussalam (NAD) Province
Country
Indonesia
Counterpart:
Rehabilitation and Reconstruction Agency for Aceh and Nias (BRR),Local Government (Aceh Provincial Government, Prefecture/City/Residency/Village Governments in project target Area)
Target Area:
Banda Aceh City, Aceh Besar Prefecture, Pidie Prefecture, Aceh Jaya Prefecture, Aceh Barat Prefecture, Bireun Prefecture, Aceh Tengah Prefecture (Duplication of Reconstruction Model Activity targets on 3 Prefectures of above.)
Implementation Period:
From 2007-3-1 To 2009-3-31(2 years)
Background: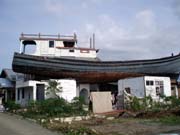 A ship on houses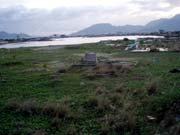 Coastal Area
A total of 9 countries from South-east Asia to Africa were terribly damaged by the enormous earthquake of magnitude-9.0 centered on Off-Sumatra and the tsunami. Above all, 128,575 people were killed and 37,063 people went missing at Aceh Province in Indonesia because of being closer to hypocenter. Not only losing most of the social infrastructures in the area, but also lost people's livelihoods and earnings. They terribly suffered from physical and financial damage.
After almost 2 years has passed from the earthquake and tsunami, by many supports have been implemented from several donors, affected people have been gradually regaining vitality. On the other hand, we are still facing a lot of challenges such as economic infrastructures (especially in community level) damaged by the earthquake and tsunami, housing problems for internal displaced people and land disputes. Also, many people still have not found their jobs and large majority of people are forced to live below a poverty line. In addition to that, this is the area where the conflict between GAM (Free Aceh Movement) and government has been lasting for a long period. Therefore, the local government seriously needs to improve an administration capacity to make a better living for people in Aceh.
Overall Goal:
Community empowerment network is expanded and self-sustainability of community activities is strengthened.
Project Purpose:
Community activities are activated through enhancement of community capacity.
Outputs:
Community's capacity for realization of reconstruction and revitalization of their living is enhanced.
Effective community empowerment scheme for BRR and local government is recommended.
Technical and administrative capacity of local government is increased to rehabilitate and manage infrastructure and public facilities.
Community capacity to support public services is enhanced and is capable of employing participatory development.
Capacity of local government is enhanced in revision of rules and regulations (Qanun)