In Indonesia, low quality of teachers has been a big issue in the quality of junior secondary education in Indonesia. Improving the quality of teachers is one of three important issues in the Strategic Plan (RENSTRA) 2005-2009. For junior secondary level, 36.36% (approximately 227,000 teachers) of teachers still do not have the minimum qualification requiring bachelor or 4 year college program (D-IV) in line with the Teacher and Lecturers Law 2005. The PISA ranking in 2006 shows that Indonesia took 50th place in scientific literacy, 48th in reading literacy and 50th in mathematical literacy out of 57 countries. Compared to the result of PISA in 2003, it cannot be said that the quality of education in Indonesia has improved.
In this context, JICA has supported in the field of the quality of education, especially improving science and mathematics education early on through the Program for Strengthening In-service Teacher Training for Science and Mathematics (SISTTEMS, 2006-2008). SISTTEMS targeted all junior secondary science and mathematics teachers in three districts and restructured the district level in-service teacher training by introducing Lesson Study(LS). It made a significant result within 2 years. The Ministry of National Education highly admired the achievement. At the same time, there was another program implemented, called REDIP (the Regional Education Development and Improvement Program (REDIP Phase1, REDIP Phase2 and REDIP)), in which JICA has supported in the field of Participatory School-based Management (PSBM) from 1999 to 2008. This program takes advantage of results and experiences of the previous projects and programs, and aims to disseminate PSBM and LS models extensively in the nation.


Figure 1 Program Formulation
What is Lesson Study?
Lesson study was started in Japan around the 1870s. This is a method of case analysis on the practice of lessons, aiming to aid the professional development of teachers and to let them learn from each other based on real practices at classroom levels. Lesson study is divided into three parts: planning, observation and reflection (Figure 2). In the planning part, either one or group of teachers plan a lesson; one teacher conducts a lesson based on the plan and colleagues observe the lesson; and they reflect on the observed lesson together.

Figure 2 Steps of Lesson Study
What is PSBM (Participatory School Based Management)?
PSBM is development of school-based management with community participation. There are mainly three principles: (1) Adapting bottom up school planning with school committee and community, (2) Showing accountability and transparency regarding school activities and budget, and (3) School committee and community participation in school activities and development. Some examples of PSBM activities are:
School makes a annual school plan with the school committee members.
School implements educational events cooperating with parents and community.
School carries out educational socialization for parents.
School receives donation, materials and others from community.
School reports its activities to parents and school committee members.
School reports its income and expenditure to parents and school committee members.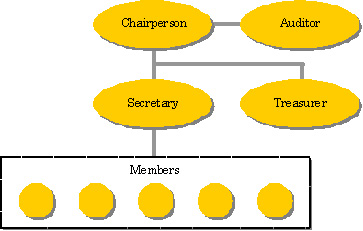 Figure 3 School Committee Organization
Figure 3 shows one example of school committee organization. Some of the members can be parents, a village head, a religious leader, a business person.
This program aims that the capacity of national as well as local education administration and schools are strengthened in order to disseminate and implement participatory school-based management (PSBM) and lesson study (LS) whose roles are vital to enhancement of quality of education.
Duration
This program will be implemented for about four years from March 2009 to February 2013.
Counterpart
Ministry of National Education
General Directorate for Quality Improvement of Teachers and Education Personnel, MONE(DGQITEP)
General Directorate for Management of Primary and Secondary Education, MONE (DGPSEM)
General Directorate for Higher Education, MONE (DGHE)
Ministry of Religious Affairs
General Directorate of Islamic Institutions, Ministry of Religious Affairs (MORA) (DGIE)
Research, Development, Training and Education Institute (RDETI)
Coverage
This program will be implemented in six districts (kabupaten) and three cities (kota) chosen from seven provinces. The program will deal with the junior secondary level in these kabupaten and kota. Below figure shows the coverage sites.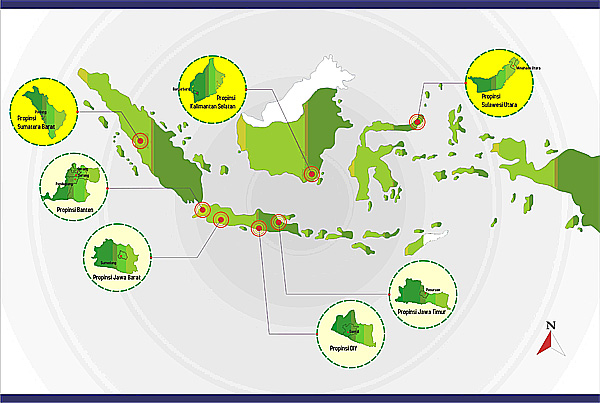 Figure 4 Target Sites for PSBM and LS
Table 1 shows these kabupaten/kota and the numbers of target schools.
Table 1 Target Kabupaten/Kota and Schools
Province
Kabupaten/Kota
SMP
MTs
Total
Activities
Banten
Kab. Serang
146
142
288
Participatory school-based management
Kota Serang
60
35
95
Kab. Pandeglang
119
125
244
West Java
Kab. Sumedang
92
45
137
Lesson study
Yogyakarta
Kab. Bantul
83
17
100
East Java
Kab. Pasuruan
116
107
223
West Sumatra
Kota Padang
81
18
99
New sites disseminating lesson study
South Kalimantan
Kota Banjarbaru
17
8
25
North Sulawesi
Kab.North Minahasa
64
2
66
Total
778
499
1,277
*Kota Serang is a new city divided from Kabupaten Serang. The numbers of target schools in Kota Serang is included in the numbers of target schools in Kabupaten Serang. Source: Ministry of National Education,
JICA Expert Team
The JICA Expert Team is comprised of eight members of the International Development Center of Japan (IDCJ) as listed in Table 2:
Table 2 JICA Expert Team Members
| Expert Name | Assignment |
| --- | --- |
| Koji Sato | Team Leader/Education Planning |
| Naomi Takasawa | Education Administration 1/Education Development Partner Coordination |
| Norimichi Toyomane | Teacher Training Management 1(Participatory School Based Management) |
| Yoko Takimoto | Education Administration 2 / Teacher Training Management 2 (Lesson Study) |
| Masaaki Sato | School Management 1 |
| Yoshitaka Tanaka | Lesson Study 1 |
| Izumi Nishitani | Lesson Study 2 |
| Shuhei Oguchi | Education Evaluation / School Management 2 |