The JICA-assisted "Project for Strengthening the Flood Management Function of DPWH" will terminate in June 30, 2010. One of the remaining activities in the technical cooperation period is the construction of a Sabo Dam Pilot Project in Santa Fe River. The PMO-FCSEC is mainly responsible for the planning and designing of the Sabo Dam, while the DPWH Nueva Vizcaya 2nd DEO which has jurisdiction over the project site is responsible for the procurement of contractor, and construction supervision.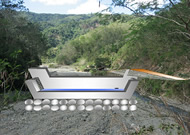 Conceptual Image of Sabo Dam Pilot Project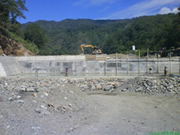 Sabo Dam Pilot Project as of 31 May 2010
The Sabo Dam Pilot Project is the 1st Sabo Dam in the Philippines locally funded and constructed by the DPWH using Soil- Cement technology (riverbed material is mixed with cement) as the core material of the dam to make it economical. JICA experts have been providing the needed technical guidance to the DPWH counterparts from the stages of planning, design, and construction in order to effectively carry out the essence of technology transfer. The Sabo Dam is about 80% completed as of 31 May 2010. It is expected to be completed in the middle of July.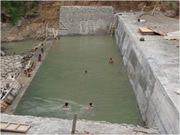 Once completed, the Sabo Dam can effectively control sediment transportation and prevent riverbed aggradation. The Sabo Dam will help mitigate water induced disasters (such as floods) and will reduce damages to properties, livelihood and human lives. The Local Government Unit on the other hand, envisions that the Sabo Dam will become a famous landmark as the site will be developed as a mini park where the people, particularly the children get used to swim and play.
To make this Sabo Dam Pilot Project a success, we encourage all the residents of Sta. Fe Municipality to join us in protecting and taking care of Santa Fe River and it's environment (including Sabo Dam).
(By Gil. I. Iturralde, Head of Pilot Project Group)