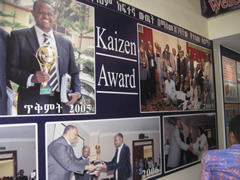 Entrance Hall at EKI
From September 28 until October 1, 2015 JICA Team organized a Kaizen Study Visit to Ethiopia for 5 personnel which included Permanent Secretary of the Ministry of Industry and Trade (MIT) and Deputy Permanent Secretary of the Ministry of Finance in addition to a newspaper reporter.
The Kaizen project started in April, 2013 in Dodoma, Morogoro and Dar es Salaam. As of now a total of 47 enterprises have implemented Kaizen, and 13 Master Trainers and 2 Trainers have been certified by MIT.
The Kaizen project aims at the promotion of Kaizen so that the strategy and policy actions are expected to be planned accordingly. Considering the background mentioned above, high-level government officials like Permanent Secretaries are encouraged to understand Kaizen deeply and to take leadership in promoting Kaizen through visits to different countries. Ethiopia is one of the most supportive countries for Kaizen in Africa and provides an advanced case study through the Ethiopia Kaizen Institute (EKI).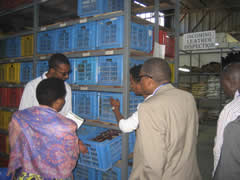 The Visit to Peacock Co. Ltd.
In the Kaizen Study Visit, the delegation took time for the exchange of intellectual outputs for motivating the delegation members. For instance, the explanation from EKI director about Kaizen Movement and Kaizen Strategy in Ethiopia, the visit to a shoes factory and a workshop facilitated by a professor of Addis Ababa University provided the opportunity for healthy discussions. Active participation and enriched inputs were gained through the discussions. MIT Permanent Secretary mainly raised questions about the institution for Kaizen promotion while MOF Deputy Permanent Secretary was concerned about the central government budget issues such as the evaluation indicators of EKI budget.
In addition, the courtesy visit on the Minister of Industry did not end up as a mere courtesy call but it also culminated into deep discussions about the cooperation between Ethiopia and Tanzania on how to promote Kaizen. In order to realize the bilateral cooperation of Kaizen, the Embassy of Tanzania in Addis Ababa undertook to play a central role to follow-up the discussions.
Immediately upon arrival from Addis Ababa, a press conference was organized at the Dar es Salaam International Airport. Reporters from 7 newspapers gathered for the report of the Ethiopia study visit. MIT Permanent Secretary recognized the importance of publicity for Kaizen promotion and raising awareness of the high-level of the central government and accordingly instructed the Tanzania Kaizen Unit (TKU) to plan a Kaizen factory visit and guidance for mass media. MIT Permanent Secretary explained in Swahili about the lessons he learned during the study visit for one hour.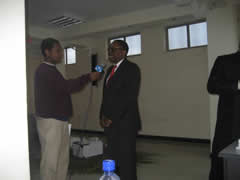 Permanent Secretary of Ministry of Industry and Trade at Press Conference
Meanwhile the Kaizen project will hold Kaizen Award Ceremony on November 20, 2015 at the Dar es salaam Serena Hotel to praise the excellent Kaizen implementing enterprises along with the excellent Kaizen Master Trainers. Chairman of Tanzania Private Sector Foundation (TPSF) along with the Ministers and Permanent Secretaries of the relevant ministries will be invited to the ceremony.