On 30 November 2015, the Ministry of Industry and Trade organized the First KAIZEN Award Ceremony. In the ceremony, the latest achievements of the KAIZEN project were presented, including the successful training of 13 KAIZEN Master Trainers and the guidance to 42 pilot enterprises on KAIZEN implementation. Then, four KAIZEN Master Trainers, who provided superior guidance for enterprises, as well as four enterprises, which achieved highest on KAIZEN implementation, were awarded.
Large applause exploded especially (1) when the project set forth that it wanted to make Tanzania the most successful in KAIZEN promotion among African nations which were implementing KAIZEN projects and (2) when an award winning enterprise emphasized that it took time to nurture KAIZEN culture and that continued leadership and commitment of the top management was essential for KAIZEN implementation.
To promote awareness of KAIZEN further, not only representatives of relevant organizations, those from pilot enterprises, and KAIZEN Master Trainers but other enterprises and private associations were invited to the event.
The Ministry of Industry and Trade had held a press conference and published a press release to announce the event, which attracted over 30 newspersons. As a result,the event was covered in many leading newspapers and news programs.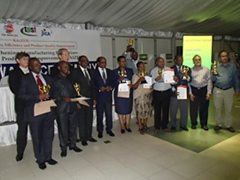 Award Winners with Mr. Uledi A. Mussa, Permanent Secretary of the Ministry of Industry and Trade, Mr. Hiroyuki Kubota, Deputy Head of the Embassy of Japan in Tanzania, Mr. Toshio Nagase, Chief Representative of JICA Tanzania Office, and Mr. Reginald Mengi, Chairperson of Tanzania Private Sector Foundation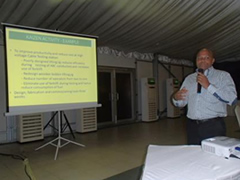 Presentation by an award winner enterprise