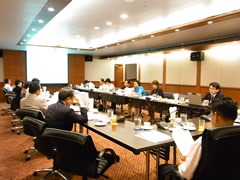 Representatives from 3 industry clubs attended the meeting at FTI on June 23, 2011
Three months after kicking-off, the JICA PRTR Project has progressed to another step, with the phase of preparation of draft estimation manual for Point Source Emission – one of the major sources of emission, such as manufacturing and mines, as will be defined in the PRTR system.
With support from the Department of Industrial Works (DIW) and the Federation of Thai Industries (FTI), the meeting between the JICA Expert Team and three industrial clubs; namely the Chemical Industry, Petrochemical Industry, and Refinery Industry, was made possible on June 23, 2011, chaired by Mr. Decha Pimpisut Director of Air Pollution Division, DIW. Representatives from Japan Chamber of Commerce (JCC) also attended the meeting as observers. The work plan for developing the release estimation manuals for the chemical and petrochemical industry proposed by JICA Expert was discussed and mutually agreed. Also, the working group for designing the manual was set up, whose members were derived from related industry clubs, government organizations and the JICA Expert Team.