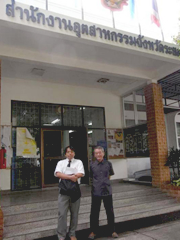 JICA Expert in front of FTI, Rayong provincial chapter
Besides the emission from point source, another important part of the PRTR system which significantly contributed to the total emissions is non-point source emission, e.g. agriculture, automobile, construction and small industry.
Furniture industry, in general, is considered as small industry.
To have a better understanding of the furniture making industry, on August 17th, 2011, the JICA Expert, accompanied by staff from the Department of Industrial Works (DIW), made a visit to furniture factories in Rayong province. With support from DIW and the Federation of Thai Industry (FTI), Rayong provincial chapter, the JICA Expert had a chance to introduce the JICA-PRTR Project to the factories and discussed various aspects of establishing the PRTR system in Thailand, especially on the topic of the upcoming pilot project which will be implemented in the Rayong area. Each factory agreed on the principle and promised cooperation for the project.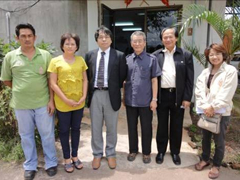 JICA Expert and DIW Staff were guided around the factory, Thai Eastern wood (1987) Co., Ltd., by Ms. Supa Saengvonkit (second from the left) and accompanied by the factory manager (far left)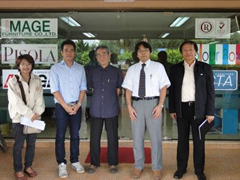 JICA-PRTR Project Team with Managing Director Mr. Wut Pisolpool, Image Furniture Co., Ltd.