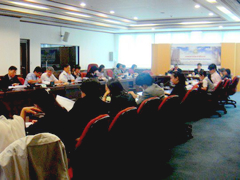 JICA-PRTR Project counterpart members actively participated in the 3rd counterpart meeting at Pollution Control Department on September 20th, 2011.
As a regular floor for all project counterpart members to assemble and exchange ideas, the JICA-PRTR project counterpart meeting was held for the third time at Pollution Control Department (PCD) on September 20th, 2011. Mr. Supat Wangwongwatana, Director General of PCD, and Mr. Chumpon Cheewaprapanunt, Deputy Director General of Department of Industrial Works (DIW), co-chaired the meeting.
In this meeting, the first priority list of chemicals and the selection process proposed by JICA Expert were vastly discussed and generally agreed by the floor. After being finalized by the consensus of the counterpart and related stakeholders, the target chemical list will be included in the PRTR system and used extensively to identify the target emission source of Thai PRTR. The progress of the project in the last six months was presented to the members. Two task forces for developing of emission estimation manual for point source – refinery industry and chemical/petrochemical industry -- were officially set up. Development of risk communication training course proceeded as planned and a workshop for the course will be conducted in October, 2011.