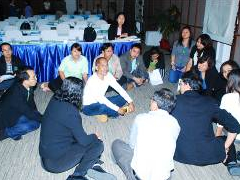 Governmental group
The activity on the last day of training, January 25th, 2012, was the practice session where participants had a chance to integrate the knowledge learned from previous lectures.
Through this activity, participants were expected to build up their capacity to correctly interpret PRTR data and the knowledge on chemical and toxicity. All participants were divided into 3 groups for a role-playing game. Each group was consisted of participants from different organizations accompanied with 1 or 2 lecturers as a guide. In the game, 3 groups acted as representatives of different sectors – governmental sector, industrial sector, and community/NGOs sector – presenting different points of view. Given an example of PRTR data set, each group was assigned to find the most appropriate way to interpret and communicate to other groups of audiences.
To conclude the lesson, the lecturers summarized the activities and gave some comments and suggestions to apply for future risk communication. Being friendly, open-minded, and acquainted to the local people is the initial key to successful communication.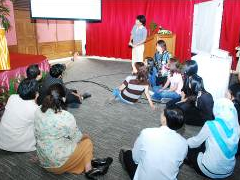 Industrial group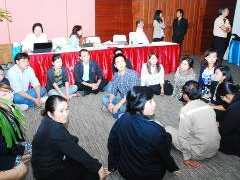 Community/NGOs group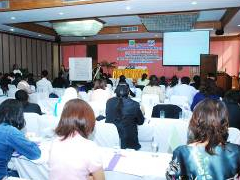 Representative of each group presented the conclusion of their discussion