On April 26th, 2012, the JICA-PRTR Project was given a chance to be introduced at the regular meeting of Petrochemical Industrial Club Committee, held at the Federation of Thai Industry (FTI), and presided over by Mr. Aditheb Bisalbutr, Chairman of the Petrochemical Industry Club. Members of the club committee from various petrochemical companies actively participated in the meeting, expressing their interest and serious involvement in the project.
To gain a better understanding on the PRTR system and prepare for future implementation, Dr. Decha Pimpisut, Director of the Air Pollution Division, Department of Industrial Work, – a key person of the JICA-PRTR Project – was invited to give a presentation. The topics included an overview of the JICA-PRTR project, the selection of target substances, together with a report on progress of the project's first year. An extensive discussion was held, providing many useful comments and much feedback. The members agreed overall on this principle, and promised continuous cooperation.
Currently, some members of the FTI's Petrochemical Industrial Club are taking on an important role in developing the release estimation manual for the chemical/petrochemical industry, in collaboration with JICA experts and DIW officials.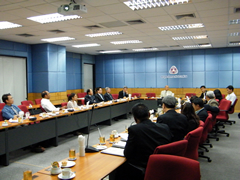 The Petrochemical Club Committee actively discussed and gave feedback on the JICA-PRTR Project.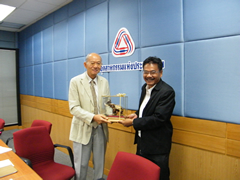 Dr. Decha Pimpisut, as guest speaker, received an honorary gift and had his picture taken with Mr. Aditheb Bisalbutr, Chairman of the Petrochemical Industry Club, after the presentation.